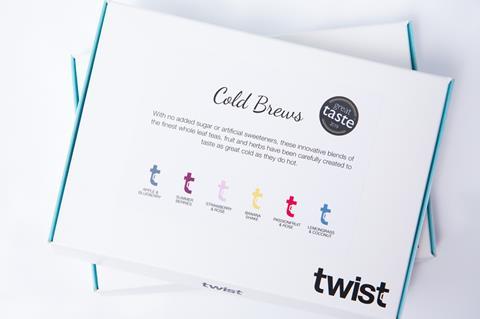 Tea brands are looking to lure in new shoppers with cold brew NPD over the summer.
Hertfordshire-based Twist Teas is expanding its line-up of cold brew teas with a new flavour and a selection box.
Its latest flavour – called Crème Brewlee – is a rooibos blend with turmeric, desiccated coconut and ginger.
It has rolled out online in packs of three, 15 and 50 bags, all of which are plastic-free, biodegradable and recyclable (rsp: £2.50-£16.50).
The tea maker has also added a selection box SKU for its existing line-up, which it billed as a response to the "growing demand for cold brew" beverages.
The selection box (rsp: £12) includes the brands "bestselling" cold brew blends. They are: Summer Berries, Lemongrass & Coconut, Banana Shake, Apple & Blueberry, Passionfruit & Rose and Strawberry & Rose.
It said the blends were "full of little surprises that make them different", be it an ingredient with a functional benefit or an "unconventional flavour pairing".
Bird & Blend, meanwhile, has added four new blends to its cold brew range.
Strawberry Lemonade, Blue Raspberry, Peach Soda and Key Lime Pie have joined the brand's extensive line-up, which comes in loose and bagged formats and is priced from £3.20.