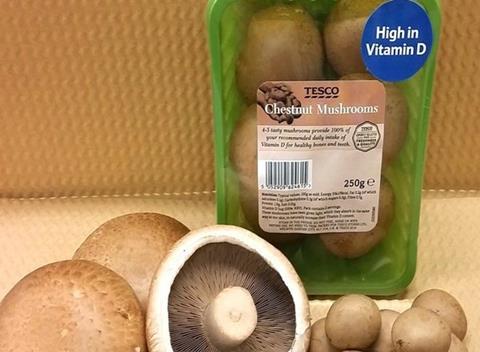 Tesco has launched a new range of vitamin D-enhanced mushrooms to help Brits stay healthy through the winter months.

Hitting stores this week, the new Chestnut (rsp: £1/250g), Baby Chestnut (rsp: £1/150g), and Portobello (rsp: £1/150g) mushrooms are grown in extra light to naturally enhance their vitamin D levels.

The launch follows warnings from health experts that Brits are not getting enough vitamin D, which is produced naturally by the body when exposed to sunshine, during the winter months.

One 100g portion of the mushrooms would be enough to meet the recommended daily allowance of vitamin D, Tesco claimed.

"As we head into the winter months, we know it can be increasingly difficult to meet the daily recommendations for vitamin D from a natural source," said Tesco mushroom expert Marek Kutera. "These delicious mushrooms will make it easier than ever for shoppers to get all of their allowance from a key cooking staple."

The new range is grown in Ireland exclusively for Tesco by Monaghan Mushrooms, which began developing a commercial process to naturally enhance vitamin D in mushrooms by exposing them to extra light in 2010.

M&S launched vitamin D mushrooms in 2014, but Tesco claimed this was the first time a full range of naturally enhanced mushrooms has been available in the UK.