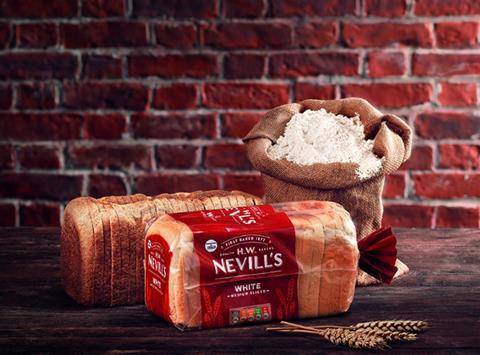 Tesco has replaced its Everyday Value wrapped loaves with bread under the name HW Nevill's Quality Bakers – the supermarket's latest expansion into tertiary brands.
Bearing the on-pack claim 'First baked in 1872', the new 800g loaves are named after HW Nevill, the Victorian business that was once one of London's largest bakeries. Two sliced variants, a white and a wholemeal, began rollout last week at an introductory price of 40p. They are now listed at 45p, the same as their Everyday Value predecessors.
Tesco was always "looking at how we can offer our customers great quality products at great value prices" said a spokesman for the retailer. A number of products, including sliced bread, would be "getting a new look and feel to complement their fantastic quality".
The supermarket's website states: "Back in 1872, Henry William Nevill founded his first bakery and started a proud baking tradition.
"Almost 150 years later, our hero bakers take their craft just as seriously as Henry did. Using only quality ingredients, they work through the night to create delicious bakery favourites for the whole family to enjoy."
While the bread is understood to be made by Allied Bakeries, the Kingsmill owner declined to confirm. "We supply a range of bread and bakery products for a small number of UK supermarkets, as well as our branded loaves," said a spokeswoman. "We cannot comment in detail on any individual commercial arrangements."
HW Nevill's Quality Bakers is the latest move by Tesco into the ranging of tertiary brands – which has seen the introduction of the Farms portfolio across fruit, veg, meat and fish. The retailer has faced criticism for its use of the Farms name, with environmental lobby group Feedback attacking the grocer over "its unflinching commitment to fake farm branding".