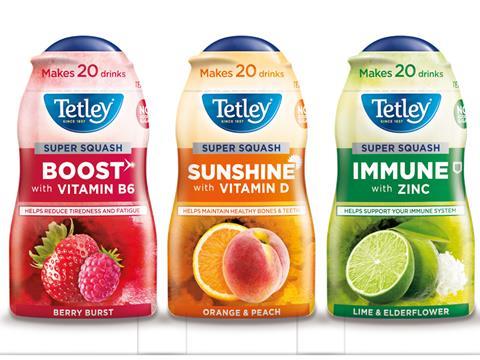 Tetley is moving beyond tea with a quartet of Super Squash drinks designed to tap demand for functional beverages.
Rolling out from November, the new range blends "real fruit juices with added vitamins". It comprises Super Squash Sunshine with Vitamin D, Super Squash Boost with Vitamin B6, and Tetley Squash Immune with Vitamin C, and Super Squash Immune with Zinc.
The Sunshine and Boost variants will be available in both 850ml bottles (rsp: £2.29/17 servings) and concentrated 50ml SKUs (£2.49/20 servings). Immune with Vitamin C will be available only in a 850ml bottle, while Immune with Zinc will be in the 50ml format only.
Sunshine and Boost will launch initially into Tesco and Waitrose, with "other major customers to follow", said Tetley.
"We believe health is an untapped opportunity to deliver value in the squash category," said Tetley marketing manager Cassie Shuttlewood.
Immune is billed as delivering 75% of shoppers' recommended daily vitamin C per 250ml glass. Boost provides 37.5% of the daily vitamin B6 allowance, and Sunshine delivers 15% of daily vitamin D.
All four drinks are sweetened by sucralose and are calorie-free.
Their launch will be backed by a £3m push, featuring TV and ambient advertising, in-store activity, PR, social media and sampling.
Customers were "looking for more convenient and enjoyable ways to be healthy", added Shuttlewood, citing the positive reception the brand's Super Tea range – also touted for its vitamin content and health benefits – had received.
Tetley has grown value sales by £3.9m (4.3%) [IRI 52 w/e 15 July 2017]. Its experience in functional beverages and "proven track record" of attracting new shoppers meant it was well placed to boost squash, added Tetley shopper & customer marketing director Peter Dries.