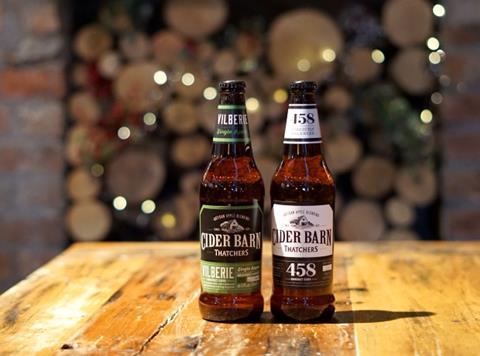 Thatchers has added a duo of new ciders to its upmarket 'Cider Barn' range.
The first, Thatchers 458 (8.4% abv), was a "well-balanced, medium dry" cider, said the brand, billed as being "full with apple flavour, blended to appeal to those who love a traditional, West Country style".
"The selection of apples - harvested over a period of three months in four separate sessions to ensure we gather them at their optimum ripeness - really offers us the periodic table of apples, from those high in tannin and acidity, to those at the sweeter end of the scale," said Thatchers chief cidermaker Richard Johnson.
Thatchers Vilberie (6% abv), meanwhile, is a single varietal cider made from Vilberie apples. It offered "a balance of rich, soft tannins and acidity" and had been "a favourite amongst West Country cidermakers for over 150 years".
Johnson added: "It has a rich amber colour, long, dry finish and hints of chocolate and coffee in its aroma."
The drinks have launched into online retailers and the Thatchers web shop (rsp: £2.05).
Thatchers' 2018 sales were given a massive boost by the World Cup this year: the brand added £16.2m to its value, growing 28.6% to £72.8m, on volumes up 28.5% [Nielsen 52 w/e 8 September 2018].