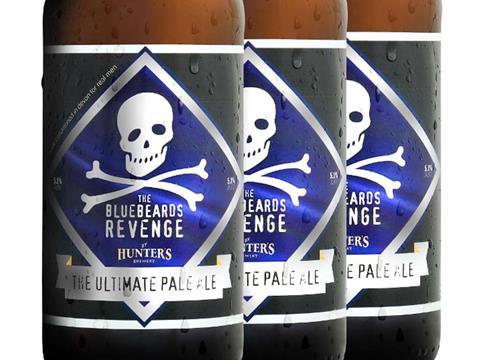 High-end male grooming brand The Bluebeards Revenge has done the opposite of Carlsberg - which rolled out a grooming range earlier this year - and created its own beer.
The Bluebeards Revenge has teamed up with Hunter's Brewery in Devon to create The Ultimate Pale Ale, which is available online in bottles now (rsp: £2.70/500ml) and will be going into pubs from this month.
"It would have been easy to get a white-label brewer to smack a few Bluebeards labels on to an existing brew, but that is simply not our style," said MD David Hildrew. "We wanted our very own, unique beer brewed by a brewery with excellent credentials, and with a route to market so that our beer could be on sale in pubs and supermarkets across the land."
Paul Walker, of Hunter's Brewery, said he was excited to be a part of the collaboration. "I was a little thrown when The Bluebeards Revenge first came to me with their idea, but it quickly became apparent that it was a golden opportunity," he said.
Carlsberg turned heads earlier this year when it introduced its own grooming products, containing Carlsberg beer. A set of shampoo and body lotion (rsp: £19.99) is available.