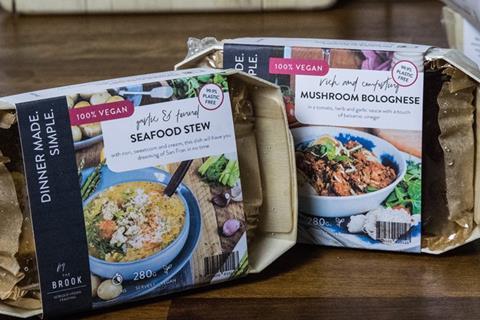 London restaurateur Thea Brook is aiming to make her high street grocery debut with a range of plant-based, sustainably packaged ready meals.
Eight frozen recipes based on dishes from her Wallington restaurant, The Brook, are available following a three-month testing phase in which Brook and her team trialled 24 variants.
The final selection includes jackfruit bourguignon, mac & cheese with a balsamic caramelised onion topping, and seafood stew made with seaweed (rsps: £4.50-£5.25/250g-300g). All are meal centres for one, and are free from meat and dairy.
They had been formulated to have "deep flavours" and contradict the widespread thinking that "vegan meals should just taste like vegetables" Brook said.
The meals were targeted at all shoppers, not just vegans, she added. "We want to reach as many people as possible with delicious, exciting plant-based food to show them how incredible it can be. Our point of difference is that we are creating food for people with a traditional palate: our food will appeal to committed vegans and flexitarian foodies alike."
Each variant is packed in a wooden tray and cardboard sleeve, with the only plastic being the shrink wrapping – making the product '99.9% plastic free' according to the label.
The Brook's ambition was to "support people's decision to live more sustainably, by giving them an easy option to swap on as many fronts as possible" Brook said.
The ready meals will launch officially next week at London's International Food & Drink Event, with grocery listings expected in the spring and summer. The restaurant kicked off a "beta test" of its frozen dishes in January, selling them via its website.
It comes after The Brook raised £170k on Seedrs in four days last autumn, having hit its £120k target within 24 hours.
Brook founded her south London eatery in 2013, switching three years later to a 100% plant-based menu following the popularity of its vegan supper clubs. In 2018, The Brook opened a pop-up in Hackney for nine months, winning Time Out magazine's Best Restaurant in Hackney award.