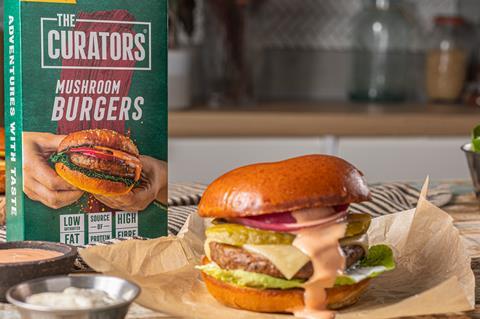 Snacking startup The Curators is moving into meat alternatives with a duo of plant-based burgers and meatballs.
It will launch two SKUs – Mushroom Burgers and Mushroom Meatballs (both rsp: £3.49/200g) – into Tesco next month.
It marks a major divergence from its current range, which has so far only included nuts, meat snacks and pork puffs.
It claimed the burgers and meatballs were a UK category first, made using a "unique process" that delivered a "super-high mushroom content" of 86%, offering a "fantastic meaty texture".
They were "bursting with natural protein", said the brand, containing 5.5g per 100g, and were a source of fibre (6.8g per 100g).
Its foray into frozen is being bankrolled by an ongoing funding drive, set to close in Janaury, by which time the startup hopes to have pulled in a "seven-figure sum" from angel investors.
Founder Max Rees said the range would be targeted at 'flexitarians' rather than strict vegans. "We don't love the term but that is what we are – we are not giving up meat but are more and more conscious of the amount we consume, and when we do we want it to be as ethical and sustainable as possible.
"So when we're looking for non-meat products to come into our routines, were not necessarily looking for something that absolutely looks and bleeds like a burger, what we're looking for is a fantastic non-meat product that genuinely gets us excited from a taste and texture perspective, and feels natural.
"That for us is why were so excited to do something that is a mushroom burger at heart, rather than going down the kind of impossible burger route."
The range is being produced by a third-party manufacturer in the Netherlands. "They are real experts in processing mushrooms and have developed with them this process for a really meaty texture burger and meatballs," said Rees.
The NPD comes on the back of a solid year for the brand, which saw its online sales rise 600%.