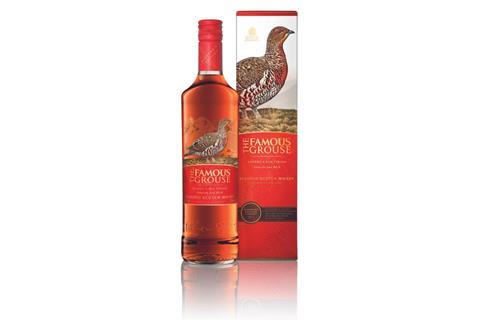 The Famous Grouse is continuing its push into premium spirits – this time with a Sherry Cask Finish.
Billed as "a decadent blend of festive flavours including chocolate, almonds, dried fruits and sweet spices", the drink was the result of over two years' development, it said.
It contains Speyside malts and is matured in sherry casks and butts seasoned in the region of Jerez, Spain.
The label features a female capercaillie bird, chosen for its link to the product's Spanish sherry heritage and its "vivid orange and red plumage which echoes the deep amber of the liquid itself", said the brand.
The Famous Grouse said it planned to support further habitat protection projects focusing specifically on the capercaillie, in addition to ongoing support for RSPB Scotland.
"The aim was to create a blend that is slightly sweeter but still in keeping with the smooth and distinct DNA of classic Grouse," said global senior brand manager Sanele Gwala.
It comes shortly after the brand launched The Famous One, a 40% abv spirit said to be developed with "all the classic complexity, smooth taste, quality, and character of classic Grouse" but with a sweeter taste.