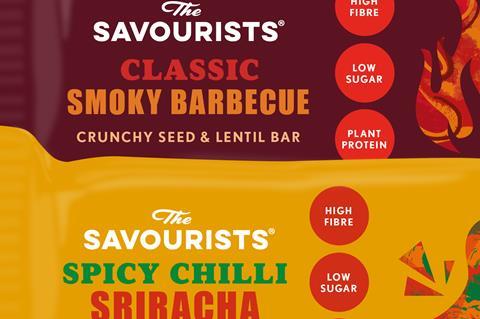 Savoury snack bar startup The Savourists has doubled its range with Classic Smoky Barbecue and Spicy Chilli Sriracha variants.
The NPD would help the brand "open the door to a more mainstream snacking audience" it said. The better-for-you duo (rsp: £1.85/40g bar) features a crunchy texture from "roasted lentils in combination with ancient grains including quinoa, puffed amaranth and sunflower seeds".
Both new snacks are gluten-free and plant-based. They provide 146 calores per bar, as well as 1.9g of sugar, 12g of fibre and 4.6g of protein.
Classic Smoky Barbecue and Spicy Chilli Sriracha are set to land in Planet Organic, Whole Foods Market and independent retailers from early May. They feature The Savourists' new-look packaging, which emphasises the contents' ingredients and nutritional benefits.
In spite of the pandemic, the brand last year saw clear demand for savoury snack bars, said founder Harry Turpin. "The launch of our two new, mass-market flavours bring us in line with the rest of the snacking market and marks us as a serious player in the snack bar category."
Launched in October 2019 with Black Olive and Nori Seaweed variants, The Savourists was "a non-HFSS brand driving innovation in the snack bar category" Turpin added. "For too long, sweet has dominated, with hundreds of fruit and nut bars – often with misleading health messages and similar taste profiles.
"When you dig deeper into the nutritional content, some snack bars have as much as 17.7g of sugar per 35g. We want to evolve the category, that's why we've created The Savourists brand."
Take-home value sales of snack bars grew by 2% last year to £365.4m in grocery [Kantar 52 w/e 24 January 2021].