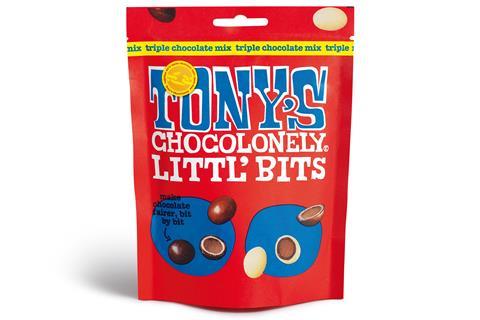 Tony's Chocolonely is to expand beyond its tablet heartlands into bagged confectionery.
Called Littl' Bits, the NPD comprises chewy and crunchy cores coated in Fairtrade chocolate.
It will debut this month in four variants inspired by its bars: Milk Caramel Sea Salt & Biscuit Mix; Triple Chocolate Mix; Milk Marshmallow & Biscuit Mix; and Dark Orange Choco Cookie (rsp: £2.49/100g).
Milk Caramel Sea Salt & Biscuit Mix features crunchy butterscotch caramel and biscuit pieces wrapped in milk chocolate; Triple Chocolate Mix comprises milk, white and dark chocolate layered balls; Milk Marshmallow & Biscuit Mix includes marshmallow and biscuit pieces coated in milk chocolate; finally, Dark Orange Choco Cookie is a vegan treat, containing crunchy, orange-chocolate cookies covered in dark chocolate.
They will roll into Sainsbury's on 31 July, followed by Tesco, Asda and Co-op next month and Waitrose and Ocado in September.
The NPD is the result of three years' development by the ethical chocolate brand.
In line with Tony's tablets, the cocoa beans used in Littl' Bits are processed to liquid chocolate by Barry Callebaut. However, the liquid chocolate is then processed into the snacks by a different co-manufacturer.
"It took a while to develop the new range, due to it being a whole new segment for us," said Tony's product development specialist Eva Wielemen.
The brand had to "find a different production location, source new types of inclusions, find out the perfect balance in chocolate versus core [and] determine the perfect size for munching," said Wielemen.
"Besides that, we had some challenges with finding the right caramel piece for our Milk Caramel Sea Salt & Biscuit Mix."
After an 18-month search, "we ended up making our own caramel recipe in a factory in Sweden", Wielemen added.
The launch formed part of a pipeline of "surprising" innovation planned for the brand over the coming months, according to Tony's.