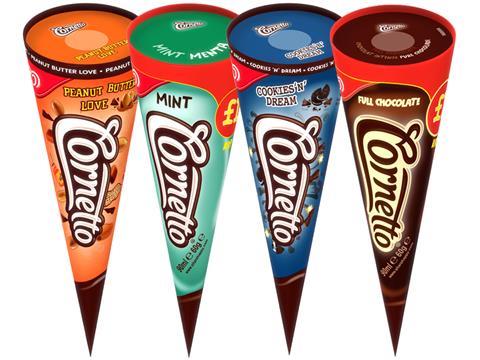 Unilever has unveiled a raft of NPD for ice cream brands including Wall's, Cornetto and Ben & Jerry's.

The company is replacing its existing Cornetto Premium cones with a new format featuring a chocolate disc topping. Two new flavours, Peanut Butter Crunch and Cookies 'n' Dream, will be available as singles for the impulse channel (rsp: £1.50) and take-home four-packs (rsp: £2.99) from March.

Following the success of strawberry and classic Cornetto price-marked packs last year, £1 PMPs are to be rolled out for chocolate and mint flavour standard Cornettos.

The activity will be supported as part of a £5m Wall's marketing campaign - claimed to be the biggest for the brand since the 1980s.

Unilever is also expanding Ben & Jerry's with a new Cookie Cores range (rsp: £4.99/500ml) consisting of crumbled cookies surrounded by ice cream with cookie chunks. The range comprises three flavours: What-a-Lotta-Chocolate, Utter Peanut Butter Clutter and Speculoos? Specu Love - named for speculoos, a caramelised Belgian biscuit, and designed to tap the trend for spreadable cookies.

The Wall's Kids range is extending with Music Tornado (rsp: £1), a candyfloss-flavoured lolly with a stick featuring one of four collectible musical whistles, while Wall's Mini Milk is being relaunched with a new recipe containing at least 36% of calcium RDA.

Unilever has also started rolling out two new Magnums, Pink Raspberry and Black Espresso, supported by a £13m marketing push.