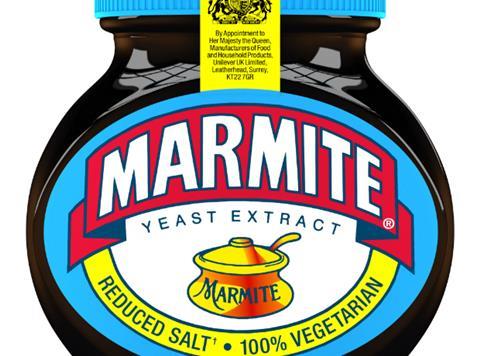 Unilever has launched a reduced salt Marmite with at least 25% less salt than the regular spread.
The new product contains no more than 8g of salt per 100g and as little as 6.1g – 44% lower than the 10.8g of standard Marmite. The discrepancy was due to "very minor variations in the amount of each ingredient used" per batch, said Unilever.
Featuring light blue packaging typical of food with lower salt and/or sugar, the spread was "designed to appeal to the growing number of consumers seeking a low-sodium diet".
With an rsp of £3.09 for a 250g jar, the same prices as full-salt Marmite, the reduced salt variant is rolling out this week. It will be backed by activity as part of the ongoing £3m Marmite Gene campaign, which kicked off in September.
Consumers' evolving tastes demanded a wider choice, including lower salt variants, said Shannon Lennon-Smith, Marmite brand manager at Unilever. "Marmite has a huge and very loyal fan base and we want to ensure we are listening to their needs and responding accordingly."
Last year, Marmite's spread experienced near-static value sales, adding just 0.3% (£0.1m) to £30m [Nielsen 5/2 9 September 2017].