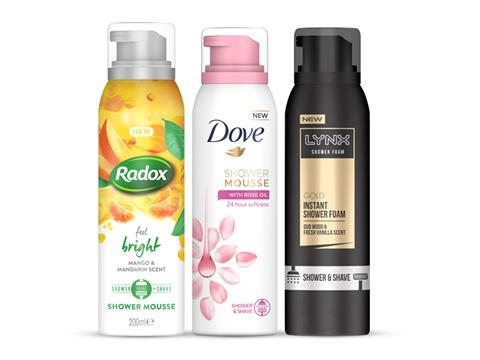 Unilever is to roll out three ranges of a two-in-one product designed for people who shave in the shower.
Set to land on shelf in mid-January, instant shower-and-shave mousse will be available from the supplier's Dove, Radox and Lynx brands – aimed at "the 28% of men and 78% of women who shave in the shower".
Each brand would offer "a unique proposition", said Unilever. The three Radox variants had "invigorating fragrances" – Feel Vibrant (blood orange & ginger), Feel Vivacious (apple blossom & cranberry) and Feel Bright (mango & mandarin) – while the two SKUs from Lynx, Gold (oud wood & vanilla) and Copper (bergamot & sandalwood), would "help make guy's grooming routines quicker and more enjoyable" (rsp: £3/200ml).
Dove is to add a trio of variants enriched with essential oils to provide "24hr skin softness after use": Argan Oil, Rose Oil and Coconut Oil (rsp: £4/200ml).
"In line with the rise of in-shower shaving, our new two-in-one shower mousse enables customers to shower and shave, while the thick lather provides a luxurious shower experience," said Libby Sherriff, brand manager at Unilever. The NPD suited shoppers' "fast-paced lifestyles" she added.