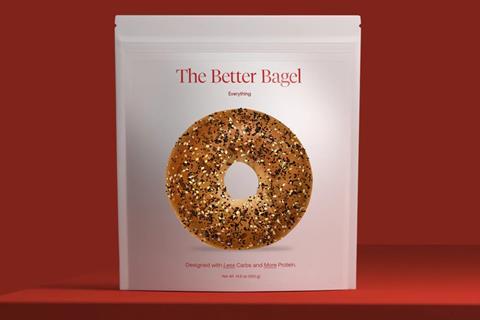 US food tech company BetterBrand has made its UK debut via an exclusive listing with Whole Foods Market.
It yesterday (2 October) launched three frozen SKUs of its hero product – the Better Bagel (rsp: £5.99/2x105g), which it claims contains 90% fewer carbs and 250% more protein than a standard bagel – into the retailer's UK sites.
They are: The Classic; The Pretzel, flavoured with a "craveable pretzel layer"; and The Everything, which features poppy seeds, sesame seeds, garlic and onion.
All three variants contain water, wheat protein isolates, modified wheat starch, modified food starch, agave fibre, yeast, sea salt and enzymes.
They make use of BetterBrand's "grain-changing" technology, which works by reducing carbs in traditionally carb-heavy foods while increasing short-chain fatty acids – all with the aim of improving metabolism.
BetterBrand's entry into the UK marked "a significant milestone in the brand's journey to transform traditionally carb-heavy foods into healthy, functional alternatives", it said.
"Our journey started with a simple mission: to reimagine the bread aisle and bring joy to healthy eating," said BetterBrand CEO Aimee Yang.
"The response and demand from our US customers since launch has been overwhelmingly positive, so we are thrilled to bring BetterBrand to the UK consumer."
It comes after BetterBrand was recently valued at $170m (£139.3m) after amassing $6m (£4.9m) in a Series A fundraising round led by Verso Capital.