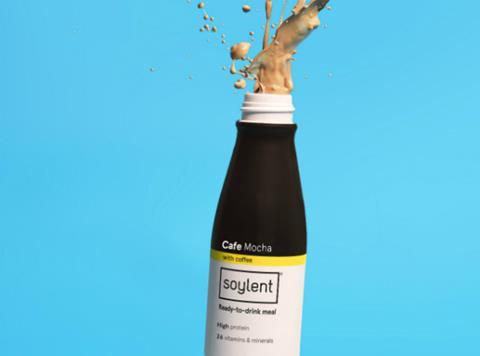 Soylent, the California grocery sensation, is set to make its UK debut, rolling out a selection of its meal replacement drinks.
The "engineered nutrition" brand – created in 2013 by software engineer Rob Rhinehart – will be available to British consumers from September exclusively via Amazon. Ready-to-drink variants Cacao, Cafe Mocha and Original will be available at £39.99 per case (12x414ml). Each drink is "designed as a complete meal, packed with 20g of protein and 26 vitamins and minerals".
While Soylent was "an accessible and convenient choice", it was also "developed with the planet in mind", according to the brand. The ambient drinks, which have a year-long shelf life, use plant-based protein to ensure "less CO2 is produced compared to the process to source protein from livestock".
The rollout to the UK – where Soylent will take on the likes of Huel – came as a growing number of Brits weren't eating three proper meals a day, said CEO Bryan Crowley.
"Falling back on bad habits of skipping meals, snacking on junk food or eating nutritionally sub-par foods can become the norm as we struggle to maintain a healthy balance. At Soylent, we call these occasions 'food voids', and we're on a mission to make these obsolete for consumers everywhere."
Since its Silicon Valley-focused launch in the US, following a crowdfunding push that generated pre-orders of almost $1.5m (£1.2m), Soylent has won total funding of $74.5m (£58.6m), with annual sales estimated at $10m (£7.9m). Earlier this year, the brand secured a listing with Walmart, having already been available in major retail chains such as 7-11 and Kroger.
In its homeland, Soylent offers six RTD and two flavours of drink powder. It discontinued its snack bar in autumn 2016 after consumers complained it caused gastrointestinal problems. Similar health concerns around the same time led to a temporary halt in sales of Soylent powder.
Rhinehart stepped down as Soylent CEO in December 2017 to be replaced by Crowley but remains the company's executive chairman and largest shareholder.