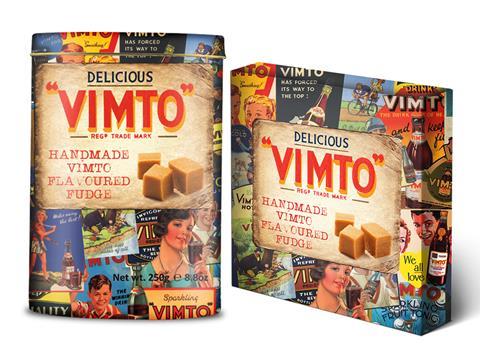 Soft drinks brand Vimto has revealed its first licensed fudge product, intended to highlight the confectionery brand's heritage.

Made in partnership with Gardiners of Scotland, the Handmade Vintage Vimto Fudge is available to independent retailers and comes in two formats: a carton for sharing and a premium tin for gifting (rsp: £3.99/170g and £6.99/250g). Both formats are being rolled out in time for Christmas but will be available all year round.

The NPD has launched ahead of the brand's 110th anniversary in 2018 to increase awareness of Vimto's heritage. The packaging uses advertising images from the brand's history, presenting consumers with something they will "remember from their childhoods", said Helen Hartley, Vimto brand licensing manager.

"This is a hugely exciting launch for the brand as it not only propels Vimto into a new sector but allows us to offer a product that will appeal to a broader age range of consumers," she added.