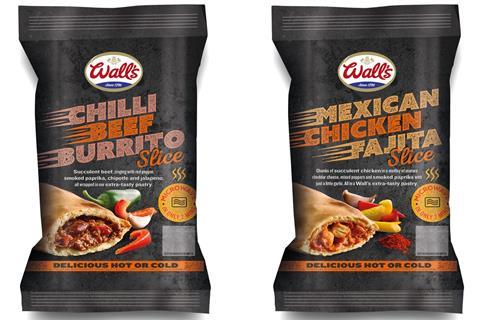 Wall's Pastry is introducing a range of microwavable slices inspired by world flavours.
It will launch the slices in two flavours – Mexican Chicken Fajita Slice and Chilli Beef Burrito Slice – rolling into Tesco from 16 November (rsp: £1.50/180g).
Mexican Chicken Fajita comprises chicken and mature cheddar blended with mixed peppers, smoked paprika, cumin, chilli and garlic.
Chilli Beef Burrito, meanwhile, is filled with beef, red peppers and a blend of smoked paprika, chipotle and jalapeno spices.
The slices require heating in the microwave for two minutes, and were "an ideal quick and convenient snack and a great lunchtime alternative", said Wall's.
The brand said it was touting the NPD as its first microwave range because, despite the fact previous launches were microwavable, these were specifically designed to be eaten hot.
Brand manager Mike Holton said the slices had been "developed to fit seamlessly into busy lives" and were "the perfect lunch for those working both in the office and at home" as well as a "satisfying meal alternative" for students and teenagers.