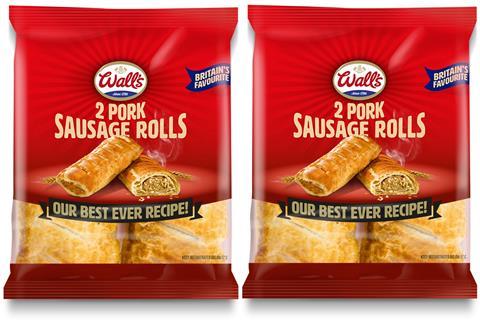 Wall's Sausage Rolls has undergone "the biggest relaunch in its history" – including a major reformulation.
The "upgraded sausage", made with premium cuts of pork shoulder and pork belly and seasoned with a blend of herbs and spices, is the result of a year's consumer testing and research.
Featuring 64 layers of pastry and a new glaze, the reformulated snack will roll out in June across single, multipack and snacking formats.
The change was to reinforce Wall's "reputation for high quality, great taste and exceptional value", it said.
Packaging across the entire sausage roll range has also been given a "vibrant" redesign with the aim of boosting on-shelf visibility.
The overhaul represented "a major investment in brand quality", said Wall's Pastry brand director Jason Manley.
Wall's aimed to draw new shoppers and fuel category growth "through continuous improvement and product innovation", Manley added.
The Sausage Rolls relaunch will be supported by a "significant" push, including social media, print and sampling.