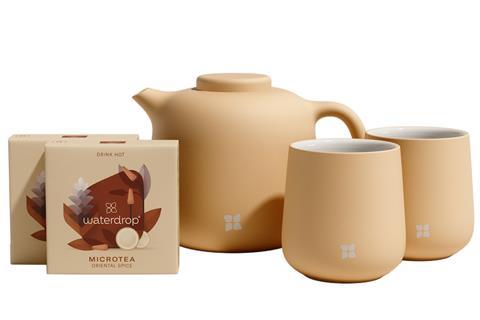 Wellness brand Waterdrop is venturing into the tea category with the launch of instant tea drops.
Called Microtea, it has created a range it says falls under a "whole new product category" – removing the need for a teabag.
Launching in three flavours – Fruit Fusion, Oriental Spice and White Blossom – the drops each contain a blend of fruit and plant extracts and need to be dissolved in boiling water.
"Although the idea of Microtea seems quite obvious, creating the product took years of intensive R&D," said the brand's founder, Martin Murray.
"Producing a compact, quality product with an extended shelf life, no preservatives, superior taste, and no added sugar or sweeteners was a challenging endeavour, but the taste and quality speak for themselves."
The goal of Microtea was in line with Waterdrop's overarching aim to encourage the health benefits of drinking more water, he added.
It has launched as part of a set – the Ceremony set – which comprises a one-litre teapot, two teacups and 24 Microtea drops (rsp: £64.90).
The brand is touting its sustainability credentials. The sleeves it is sold in are made from a combination of PET and COC films. It says 10 cups of its tea account for the equivalent of just one plastic bottle cup.