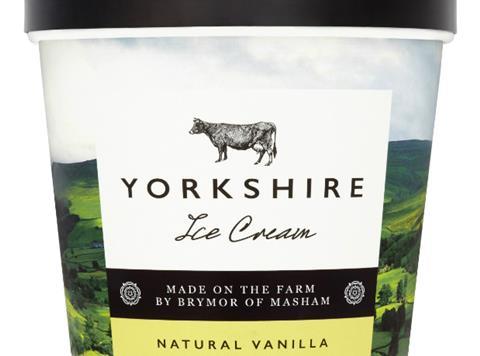 Wensleydale ice cream maker Brymor Dairy has unveiled its 'everyday' range, Yorkshire Ice Cream.
The NPD – initially available in vanilla flavour (rsp: £3.50/1-litre) – contains milk from Holstein Friesian cows kept at Hunters Hill Farm near Brymor's High Jervaulx Farm in Masham.
The product has been introduced as an everyday counterpart of the brand's longstanding premium options, which have made with made with milk from the dairy's own Guernsey cows since 1984.
"We see Yorkshire Ice Cream as Brymor's take on 'Yorkshire Fairtrade'," said the brand's managing director James Ashford. "We're producing a Yorkshire product at a better price; we're paying our farmer a better price for the milk while maintaining fair terms of trade for our farmer."
The new ice cream will be available this month in Yorkshire branches of Tesco and Morrisons.