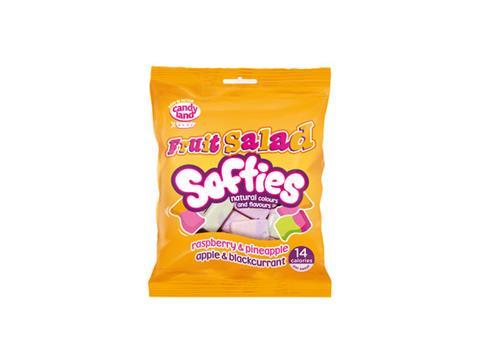 Tangerine Confectionery is launching soft gum versions of its Wham, Refreshers and Fruit Salad brands.
Rolling out from the middle of next month under the Candyland brand, the Softies will be available in two formats, 160g (rsp: £1.49) and 120g £1 price-marked packs. The launch comes as sales in the soft gums market are up 1.7% year on year to £17.2m [Nielsen 52w/e 25 April 2015].
"Softies is our most significant piece of NPD in recent years and taps into the strong and positive associations sweet lovers have with our heritage brands," said Tangerine Confectionery senior brand manager Gillian Clarke.
"We've worked hard to ensure that these new formats don't compromise on the unique taste experiences Wham, Fruit Salad and Refreshers products offer."
The full line-up comprises:
Candyland Fruit Salad Softies: in classic Fruit Salad raspberry & pineapple, and apple & blackcurrant flavour foam sweets.
Candyland Wham Softies: sugar-coated, chewy sweets in flavours including fizzing cola, strawberry and the 'tongue-tingling, original 80s Wham tang'.
Candyland Refreshers Softies: soft, fruity-flavoured sweets with a fizzy coating.
In 2012, Swizzels Matlow launched the Squashies range comprising softer gum versions of brands including Love Hearts and Drumstick.