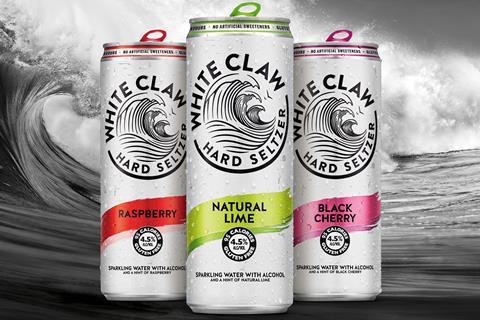 US hard seltzer hit White Claw will land in the UK next month, The Grocer can exclusively reveal.

The brand, which has smashed the US booze market over recent years, with sales hitting 80m cases in 2019, will launch three flavours - Raspberry, Natural Lime and Black Cherry - into Tesco, Sainsbury's and Morrisons from 1 June.

It is the first time the brand will be sold outside the US and Canada.

Davin Nugent, CEO of its owner Mark Anthony Brands International, said the business had planned to launch White Claw in the UK earlier, but had pushed it back slightly due to rampant success in the US. Indeed, The Grocer first revealed its plans for a UK launch last year.

The US and Canada "has taken a huge amount of our care and attention and focus" he said. "Bringing it to a new market is not a step we take lightly. This is not a quick volume build objective nor a flavour conveyor belt.
"By comparison to our competitive set, we are not one of the big drinks companies. We can't win through marketing alone, the liquid has to be the best in class. We need to build the category."

The drinks themselves have not been changed for the UK market, though they will be launched in 330ml cans here rather than their American 355ml format. They contain 95 calories per can.

White Claw's launch would be backed primarily with digital and online video marketing rather than traditional channels, said Nugent.

"We are investing millions of pounds, but don't expect billboards and TV. Consumers are the ones that will champion the brand."

It comes as a vast swathe of UK suppliers have unveiled their own hard seltzers over past months. Notable entrants include BrewDog, which has created a new 'Clean & Press' brand made with its Rogue Wave vodka, and Kopparberg, which will also launch its own seltzers this month.