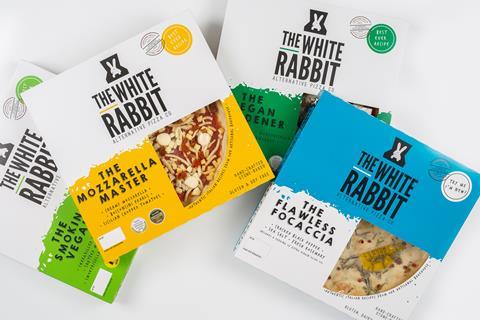 Fast-growing free-from startup The White Rabbit Pizza Co has unveiled a revamped portfolio, after securing £750k of funding in the autumn.
The gluten-free brand has given its chilled range a "fresh, bold" new look, and has reformulated and renamed the stone-baked lineup, which now comprises Mozzarella Master (previously called Mozzarella Fella), Cheeky Chorizo (Chorizo Loco), Vegan Gardener (Viva La Vegan) and Smokin' Vegan.
Changes include a switch from black olives to chargrilled peppers on Smokin' Vegan, and the introduction across all four Italian-style pizzas of a raised and browned edge.
A fifth variant, Hammer Time, has been axed, while Nudies, a twin-pack of plain bases, has been replaced by Flawless Focaccia (rsp: £5) – a 10-inch focaccia base seasoned with sea salt, cracked black pepper and fresh rosemary, and packed with a sachet of extra virgin olive oil. It is rolling out now to Booths and Ocado.
The overhaul came in a bid to remove "polarising" ingredients and create greater appeal for White Rabbit's 10-inch pizzas, said co-founder Nick Croft-Simon.
It comes after the Oxfordshire brand grew its sales last year by 250% to £1.2m. In October, the business, which is listed by the likes of Sainsbury's and Waitrose, raised £750k from private investors to fund its revamp. It was now seeking another £1m from "value-added mentors" to expand its team and marketing activity, Croft-Simon added.
"The time is right to take the next step and broaden our proposition, which at its core is to create a delicious, truly artisan, authentic pizza with the finest quality ingredients that everyone can enjoy, regardless of dietary requirements."