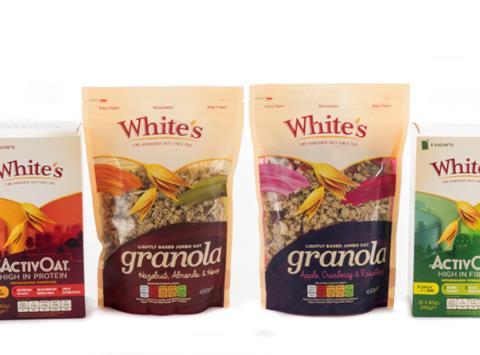 White's, the 175-year-old miller, has launched a range of functional porridge, as well as a three-strong granola lineup.
Debuting under the brand's ActivOat label, High in Protein and High in Fibre oats are geared towards health-conscious and active consumers, its makers say.
Rolling out now in Waitrose, the variants have an rsp of £2.29 per 6x40g pack.
Joining them is the new Granola in Apple, Cranberry & Raspberry, Triple Chocolate, and Hazelnut, Almond & Honey flavours (rsp: £3/500g).
"We're focused on developing and bringing to market nutritionally balanced, 100% natural porridge oats and oat cereals which deliver on taste and allow consumers to pursue healthy lifestyles," Danielle McBride, White's brand manager said. "Our ActivOat and Granola ranges meet that need perfectly, offering not only indulgence and inspiration, but also giving consumers trust so they can make well-informed nutrition choices."