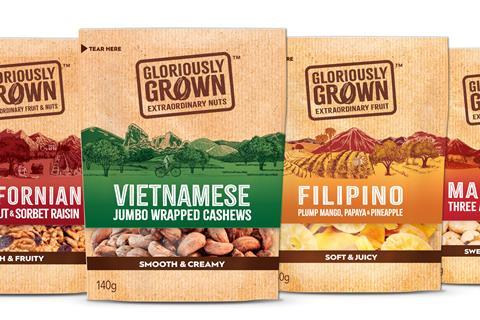 Whitworths has launched Gloriously Grown, a range of all-natural fruit and nut snacks that will go on sale in Sainsbury's next week as part of its Future Brands initiative.
The dried fruit, nut and seed supplier said it had sourced and trialled more than 70 fruit and nut mixes from Spain to Southeast Asia for the new brand, with the aim of "introducing the world of dried fruit and nuts to a new audience as well as discerning loyalists".
Merchandised in the dried fruit and nut aisle, the brand consists of 140g bags in five variants: walnuts & sorbet raisins from California; wrapped pili nuts from the Philippines; wrapped jumbo cashews from Vietnam; a three-almond blend from Spain; and a mango, pineapple and papaya mix from the Philippines.
Ingredients were farmed in conditions ranging from "heavy shade and humid air to volcanic hillsides and jungle canopies", Whitworths said.
The snacks go on sale in Sainsbury's on 14 August (rsp: £3, lowered to £2.50 on promotion), and would inject innovation to the dried fruit category through a product offering "quality ingredients, sourced and developed in their most natural, unprocessed form", added Whitworths senior brand manager Esther Laycock-Smith.
"We're on a mission to help consumers enjoy snacks that are tasty and healthy," she said. "With five varieties sourced worldwide, we hope Gloriously Grown will take customers on a unique and inspiring journey of flavour."
Sainsbury's launched its Future Brands initiative, designed as an incubator for new brands with a particular focus on targeting millennials, in May 2018.
Speaking ahead of the initiative's launch at an IGD trade briefing in June 2017, head of future brands Rachel Eyre said the scheme was designed to provide customers with "innovation and a unique shopping experience".
"While a lot of that can come from existing brands, we also know smaller brands and challenger brands are vital," she said.
"Millennials are particularly interested in challenger brands, and want a more unique, innovative range. My brief is to work out how we do that with large and small brands."