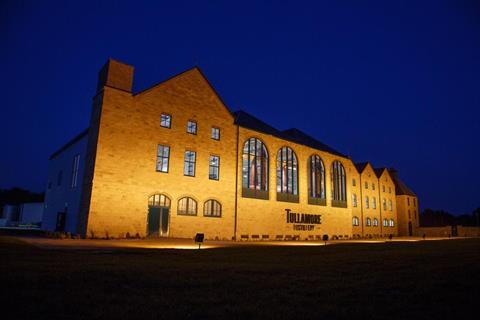 William Grant & Sons is preparing to launch a new Irish whiskey called Crooked Still.
The privately-owned spirits distiller has applied to trademark the name Crooked Still in the UK, US and EU.
The marks in the EU and UK cover alcoholic beverages, except beers.
William Grant & Sons did not respond to The Grocer's request for comment.
However, its US trademark application revealed Crooked Still would be a pot still Irish whiskey aged in bourbon casks. An image attached showed what appeared to be the product's label.
It consists of a tan rectangle featuring the product's name and a letter "S" encircled by a snake. A green rectangle in the style of a bottled-in-bond label appears at the lower left corner of the tan rectangle, bearing the words "bourbon cask aged" and "distilled in Ireland".
The whiskey is described as "a celebration of people who forged their own path and turned adversity into triumph".
According to the label, it would be distilled, aged and bottled in Tullamore county, Ireland.
William Grant & Sons opened its Tullamore Dew distillery in September 2014, returning distilling to the county for the first time in 60 years.
Tullamore Dew, its main Irish whiskey proposition, has been produced at the distillery since.
The Monkey Shoulder brand owner added Tullamore Dew to its stable in 2010, as part of its £250m acquisition of C&C's spirits division.
Tullamore Dew's range currently comprises 12, 14 and 18-year-old variants, as well as its "XO" Caribbean Rum Cask Finish.