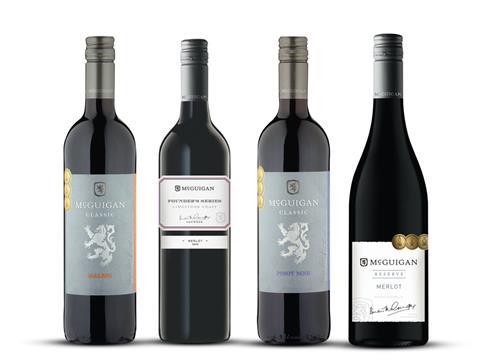 Wine producer McGuigan has expanded its portfolio with four additional reds.
The quartet, available from Sainsbury's now, comprises Classic Pinot Noir and Classic Malbec – both priced £7.50 – alongside a Reserve Merlot (rsp: £8) and a Founders Merlot (rsp: £11).
Described as "hearty", the red wines would "see drinkers through the chilly start to the year" said the producer.
"Soft and mellow", Reserve Merlot was perfect paired with chicken and pasta dishes, while Merlot provided a premium option for those wanting to impress friends and family, said the winery.
Classic Malbec is positioned as an ideal accompaniment for red meat dishes, while Classic Pinot Noir lends itself to garlic & herb pork tenderloins and mushroom stroganoff.
In October, McGuigan expanded its Black Label range with a Malbec variety harvested from grapes grown in South East Australia but incorporating the "lighter elements" of a classic French Malbec.