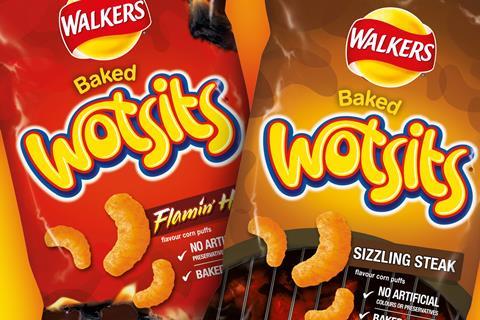 Wotsits has resurrected two discontinued flavours.
Sizzling Steak, a take on the discontinued BBQ Beef flavour, and Flamin' Hot are joining the brand's core range.
Both will launch in grab-bags (rsp: £1/50g), sharing bags (rsp: £2/130g -150g) and multipack formats from 13 January.
The multipack formats come in at 85 calories for Flamin' Hot (rsp: £1.25/6x16g) and 69 calories for Sizzling Steak (rsp: £1.25/6x13.5g), making them "an attractive snack option" for those on a health kick, said Walkers marketing director Fernando Kahane.
They will be supported by in-store shopper marketing from February and TV and digital ads from March.