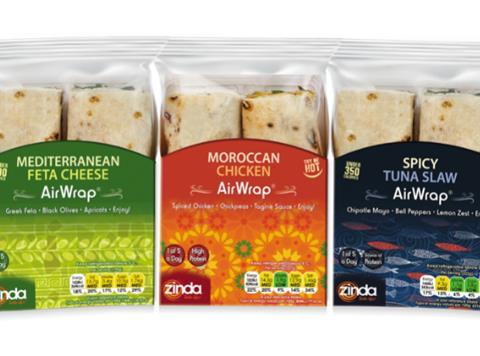 Food-to-go supplier Zinda Foods is to make its grocery debut next month, rolling out its AirWrap brand of globally inspired wraps to Tesco.
With initial variants comprising Classic Chicken Caesar, Mediterranean Feta Cheese and Moroccan Chicken, the range was developed in collaboration with chef Alfred Prasad, former director of cuisine at the Michelin-starred Tamarind in London's Mayfair.
Each is made with the proprietary AirWrap flatbread – which Zinda claims is a "first-to-market wrap base" by virtue of being "lighter and softer than the traditional wraps found on UK supermarket shelves". It also contains "less fat and salt, enabling a far more enjoyable and healthier way to eat a wrap".
The AirWrap lineup will be available in Tesco from 8 January with an rsp of £2.98 (195g-237g), backed by in-store sampling in London stores.
A listing with Selfridges will follow in the new year – as will more fillings, starting with Chicken Makhni in February followed by Egg Akuri, Spicy Tuna Slaw and Mexican Molé Pulled Pork.
AirWrap's aim was to re-energise a category in which "products have become bland, boring and functional" said Zinda founder Anishya Kumar. Her business was "borne out of a desire to break the glass ceiling that was set for the food-to-go industry by creating products that were delicious, natural, healthy, filling and, most of all, affordable".
Zinda shared Alfred Prasad's "ideologies of authentic flavours, healthy and responsible cooking" he said. AirWrap bread was "so unique compared to the generic, commercial wrap bases available, which gave me a lot to play around with. You can hardly taste the wrap, so it is really all about the filling and flavours."