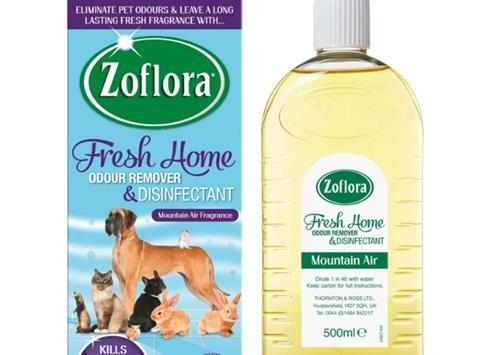 Liquid disinfectant brand Zoflora has extended its range with its first product specifically for pet owners.

Zoflora Fresh Home Odour Remover & Disinfectant can be used inside and outside on water washable surfaces, where it promises to kill 99% of bacteria and viruses, including bordetella bronchiseptica (a cause of kennel cough in dogs and respiratory disease in cats), streptococcus equi (the root of equine strangles), and antibiotic-resistant infections in animals. It is also effective against common household bacteria such as e.coli, salmonella and listeria.

Patented 'malodour technology' has been tested against pet-specific smells, including vomit, urine, excrement and 'wet dog'. The NPD (rsp: £5/500ml) leaves a 'mountain air' fragrance, and can be used in a washing machine for freshening bedding and towels.

The new product was developed in response to pet owners forming a large part of the brand's customer base, according to Zoflora marketing manager Sarah Fozzard.

"We often forget the importance of home hygiene to keep all members of the family healthy, even the four-legged variety," she added.