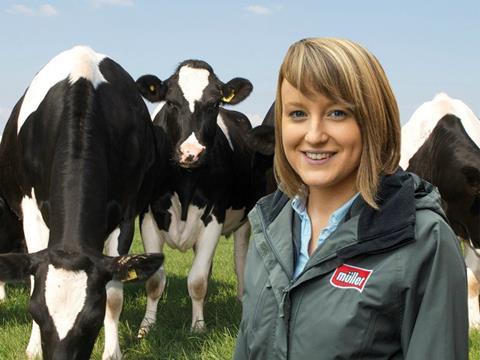 Müller has announced the launch of a new initiative designed to help its younger Müller Direct farmers to "build vibrant dairy businesses for the future".

Müller Direct Next Generation would see a group of young farmers meeting three times a year to share advice and best practice alongside training on market analysis, benchmarking and business improvement planning, the supplier announced to the Semex conference in Glasgow yesterday.

The first rotation would see about 25 farmers taking part, with the scheme set to accept new candidates yearly, said a Müller spokesman.

The company would approach eligible participants for the optional three-year scheme, which is entirely funded by Müller, it said. Applicants are required to have a minimum of three years' farm experience.

"Müller is investing significantly to ensure that consumers will be able to buy more and more added-value dairy products that are made in Britain with milk from British farms," said Rob Hutchison, director of agriculture and milk supply at Müller.

"We need to maintain a long-term and progressive milk supply and Müller Direct Next Generation will help ambitious young farmers build the thriving dairy businesses of the future."

The move comes as part of plans to future-proof growth atop the additional £700m worth of British dairy product sales it hopes to secure by 2020, said a spokesman for the dairy giant.

Sian Davies, chief dairy adviser at the NFU, hailed the announcement as a "positive step" for Müller and farmers who did not have a retailer supply contract in place.

"It's good to see Müller recognising ambition in the dairy industry and providing support to take it forward," she said. "The scheme has been in development for some time and we welcome the support the industry is seeing from milk buyers. Müller has recognised the importance of making businesses more resilient in the face of Brexit."

It follows plans set out by Müller last year to launch a futures contract, allowing its Direct farmers to guarantee a monthly price for up to 25% of their milk volume, for 12 months ahead. It has also introduced Müller Farm Insight - a service provided by AB Sustain that offers data, welfare tools and benchmarking for farmers.