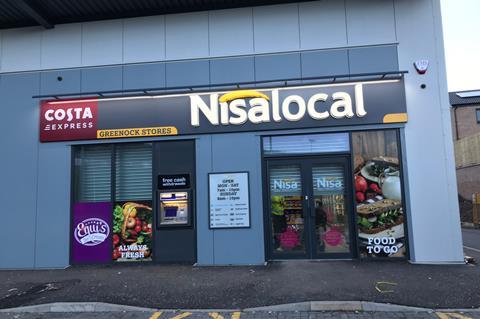 A Nisa retailer in Scotland who opened his first store with the symbol group just before the coronavirus outbreak has reported buoyant sales in its first three months of trading.
Harry Ahmed launched his Nisa Local in Greenock at the start of March, moving into a 1,500 sq ft purpose-built unit.
Before opening, weekly sales were predicted to be about £14,000, but figures exceeded expectations by 50% in the first two weeks of business, rocketing further once the pandemic hit the country.
The store is in the heart of a large residential area, with added services including F'real milkshakes, Costa Coffee and Skwishee concessions, along with a full fresh range in 10 metres of chilled space.
Independent retailers have reported booming sales across the UK as more customers use local stores for top-up missions and to avoid queues at larger supermarkets.
"I got thrown right in at the deep end and it has been a challenge, but it's been enjoyable, and sales have been brilliant," Ahmed said.
A Post Office counter is still to be installed once lockdown measures are relaxed, while home deliveries will commence in the coming weeks.
"I will be focusing on the Post Office, the delivery service and the introduction of desserts," Ahmed added. "A combination of all three will help ensure we continue trading this strongly and if we concentrate on these three elements, I believe we can keep getting better