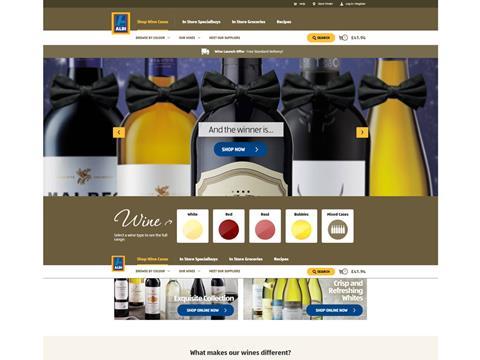 Aldi has gone live today with its highly anticipated online wine offer, which could pave the way for a much wider incursion into the home delivery market.
The discounter is testing the water with more than 90 "award-winning" wines by the case.
They include bestsellers from the existing in-store line-up and varieties of the group's premium Lot Series available exclusively online.
Delivery is free for orders of more than £50. Lower-value orders incur a £3 charge. Orders can also be collected from more than 5,500 Collect+ locations.
Aldi has invested £35m to establish its embryonic e-commerce operation.
The company said it would expend the service in the second quarter of the calendar year to include non-food 'Specialbuys', such as premium cycling wear, electrical items, clothing, camping equipment, gardening and DIY tools.
It said the launch was part of its long-term strategy to make Aldi's combination of "quality at everyday low prices available to as many people as possible", particularly those not located near one of its stores.
"We're applying our well-established Aldi principles of simplicity and efficiency to our new online operation. All of the wines available in our stores are being sold alongside a limited number of online exclusives," said Aldi UK chief executive Matthew Barnes.
"Starting with wines is a logical first step for us. It's a stand-out category for Aldi and often the entry point for customers who haven't shopped with us before. We regularly receive feedback from customers who are astonished by the outstanding quality of our wines and so we're particularly keen to expand their availability into new parts of the country where we don't currently have physical stores. Selling online is an important step forward for our business."
Aldi revealed last September that it would dip its toe into the e-commerce market with the wine offer followed by non-food Specialbuys.
"Wine has been trailblazed by other retailers. It is long-life and easy to facilitate," said Shore Capital head of research Clive Black.
But he said fresh food was "a different kettle of fish", which he thought was "a long way down the line" bearing in mind the limited range and SKU density.