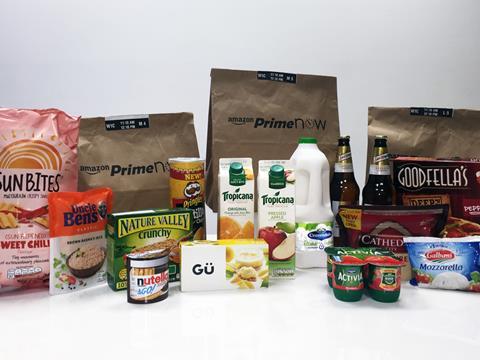 Another day, another delivery from Amazon arrives. What used to be a novelty has long since become the norm. Brown cardboard parcels carrying everything from CDs to Christmas presents are ubiquitous across the UK – last year Amazon delivered 70 million parcels. But it's not just you and me: the UK grocery sector is also getting used to Amazon delivering them something. Only for them, it's more bad news.
Weeks after the launch of Prime Now, which rushes out grocery orders inside an hour to a selection of postcodes, comes Amazon's latest grocery-related UK service, the wholesome-sounding Pantry.
Amazon Pantry has been up and running in the US since April 2014. It offers up cupboard staples like cereal, teabags, washing-up liquid, petfood – the annoying, bulky, heavy stuff – in large, neat, 20kg boxes.
As you'd expect, it's devilishly simple from a user perspective. It's also been set up to drive volume for Amazon. Customers can click on a range of 4,000 products to add them to a box and a little message appears showing how full the box is as they do ("Keep going, you can add more" it encourages). If you go over the limit, it automatically starts another box for you.
Next-day delivery is £2.99 for the first box (however full it is) and 99p for each additional box in the same order.
On price, Amazon Pantry offers a 400g can of Napolina chopped tomatoes for 45p. Tesco does the same can at 95p (or 2 for £1). On Amazon, Fairy washing-up liquid is £1.50. It's also £1.50 at Tesco (or 2 for £2). On Amazon, a family pack of Fairy non-bio tablets is £5. On Tesco it's the same (reduced from £6.50).
It's a very small, quick, random selection, but although Amazon's basket was slightly cheaper, it doesn't indicate a competitive advantage on price. Also, if you want to shop Amazon Pantry you need to sign up for Amazon Prime (£79) and pay that £2.99 delivery charge per box.
It's a lot of upfront cost (although Prime does a very attractive bundle of services, like streaming movies, plus Amazon is currently offering membership for £59 ahead of Black Friday). And Pantry doesn't appear to be any cheaper than supermarket online offers. So can the supermarkets afford to be relaxed about this latest move by Amazon?
No. It's the last thing they need.
Yes, actually visiting a supermarket remains popular with the vast majority of people. And although it has obvious potential, online grocery is still a tiny part of the market – some 5% or 6%. There is no possibility that Pantry will snatch a great big chunk of ambient sales from the grocers overnight.
But still. Amazon has siloed off the boring, bulky part of the supermarket shop and made it super easy. And though the supermarkets are all online and offer the same products at similar prices, they haven't packaged things up in the simplistic way the Pantry concept does. Their websites are not as friendly, clever or easy to use as Amazon's, either. And the delivery end is more hassle – variable charges, having to agree to a specific time, having to be in to greet the driver.
And what supermarkets offer online is not compelling enough to stop a proportion of their customers, who will also almost inevitably be Amazon customers too, from giving Pantry a whirl. And just as it's excellent with UX, Amazon is no slouch at CRM.
So slowly, deliberately and powerfully, Amazon continues to extend into grocery, mixing up innovation and latecomer advantage in equal measure. Overall, it's had a good year. In January 2015 its share price stood at 308.32. Yesterday it was at 673.25. It continues to embrace the future. And it never sleeps.
Tesco has about 50% of the online UK grocery market. That makes it Amazon's biggest target. It opened the year on the up after a disastrous three years. Now it's fallen down again. Yesterday its share price stood at 166.15. Go back to 2010 and it was 450.17.
Amazon is by no means the only factor in Tesco's struggles – in fact, for now it's probably a relatively minor one when it comes to grocery. But if Amazon keeps making solid moves into grocery things won't stay that way. And it hasn't even launched Amazon Fresh yet.