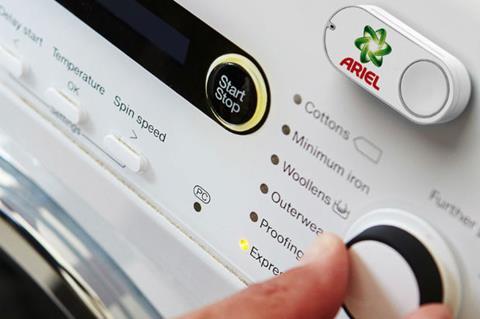 Amazon has stopped selling Dash buttons, the devices that let people reorder everyday consumables with a single press.

Launched in 2015, each of the wi-fi-connected devices was for ordering a specific product, with the brand name shown on the button. An adhesive backing meant they could be placed in convenient locations around the house, for example on a washing machine for reordering powder.

They cost £4.99 each, a charge that was refunded after the first use.

Now Amazon is to continue taking orders placed using the buttons while withdrawing the devices themselves from sale globally.

The buttons were a step towards the tech giant's vision of a connected home, in which products that regularly run out are replenished without customers having to remember to buy them online.

By the end of 2017 there were 100 participating brands in the UK, including Bold, Nescafé, English Tea Shop and Head & Shoulders. The most popular buttons were for Finish, Tassimo, Ariel and Duracell, and Amazon said an order was placed with one every 30 seconds.

The technology has since been superseded by machines that can automatically reorder their own refills from Amazon with no need to press a button. The first 'Amazon Dash Replenishment' appliances arrived in the UK in July last year, with the launch of dishwashers that automatically reorder detergent and a printer that orders its own ink cartridges.

Amazon also pointed to voice shopping with Alexa, a growth in product subscriptions and virtual Dash buttons on its website and app as reasons for the physical buttons' obsolescence.
"With this in mind, we've decided to shift the Dash programme focus," said a spokesman.
Various Dash buttons remain listed on Amazon's website while described as 'currently unavailable'.
"