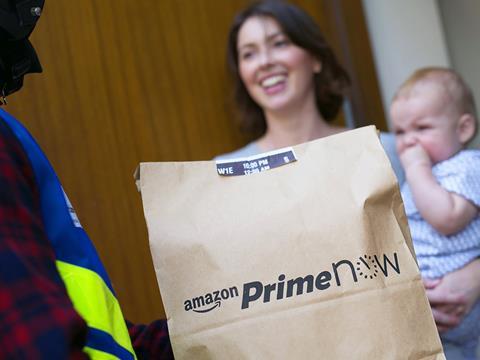 Last week, Amazon set grocery pulses racing when it bolted one-hour grocery delivery on to its Prime Now service in Birmingham. The range might have been small, but it made big headlines. So we put it to the test (see box, right). And we also took a look at what else Amazon offers in the way of grocery-related services and how they all fit together. And it all starts with Prime.

Amazon Prime

Launch date? 2005

Can I get it in the UK? Yes, since 2007

What does it offer? Ostensibly faster deliveries, free Kindle books and streaming media. Amazon CEO Jeff Bezos has described Prime membership as "the best bargain in the history of shopping". It does offer value when compared with other streaming media services, but it's not exactly altruistic. According to a report by Consumer Intelligence Research Partners, Prime is a loyalty driver and encourages purchase - members spend $1,500 per year on average, compared with $625 per year for non-members. And they shopped 50% more frequently. Prime is integral to Amazon's plans for grocery. If you want to access Amazon Grocery of any sort - Amazon Fresh, Prime Pantry, Prime Now and Amazon Dash - you need Amazon Prime.

How much? £79 per year.

Amazon Prime Now

Launch date? December 2014

In the UK? Yes, since June

What does it offer? A scaled-down version of Prime that leverages its smaller size to speed things up. It offers a fraction of Amazon's product range (though that still equates to 20,000 products) and delivers items on the same day between 8am and midnight seven days a week - and inside 60 minutes for some postcodes. Since last week, it's added 50 chilled grocery SKUs to its product range. Prices are keen - on the first 44 chilled and frozen lines launched it was cheaper than any other retailers on 75%.

How much? £79 for Prime membership. One-hour delivery costs £6.99 on top. Two-hour deliveries are free. Minimum order size is £20.


Amazon Fresh

When did it launch? 2007

In the UK? Not yet. The UK launch had been tipped for September, but was delayed.

What does it offer? Last week's launch of Prime Now grocery can be viewed as a soft launch for Amazon Fresh - Amazon's Stateside version of Ocado. Its vans have been buzzing around a selection of US states for years. Amazon Fresh offers thousands of fresh grocery items with free same-day delivery for orders over $35. It also delivers items from local grocery stores and restaurants (and thousands of other non-food items on Amazon).

How much does it cost? Users must sign up to a modified version of Prime - Prime Fresh - which costs $299 per year.


Prime Pantry

Launch date? April 2014

In the UK? Not yet

What does it offer? Prime Pantry offers over 2,000 ambient products, from cereal to soft drinks. Customers can order up to 45lb of items, or until they fill a Pantry box. Amazon has measured the cubic volume of each item in the range so it can work out how full the shipment is. Shoppers watch an animated box fill up as they shop.

How much? Prime costs $99 in the US, then $5.99 per box.


Amazon Dash

Launch date? March 2015

In the UK? Not yet

What does it offer? Dash is in effect an easier way of ordering products on Amazon. It works in one of three ways: a handheld device to scan and add items to a shopping list (or you can talk into it); a branded 'Dash' button that can be placed around the house and programmed to order products with a single click (for instance, it could be stuck to a washing machine and used to order more detergent); and the 'Amazon Dash Replenishment Service', which allows manufacturers to integrate a button into their devices to reorder supplies from Amazon. A dozen appliance makers, including Samsung, will add replenishment buttons to appliances from next month.

How much? All of it is technically free, although naturally it's bundled up with Amazon Prime, so in the US it costs $99.


Amazon Grocery

Launch date? 2003

In the UK? Yes

What does it offer? Amazon's core grocery store offers more than 500,000 products in 25 categories. The range is staggering. For instance, customers can choose from 36,399 varieties of petfood, 58,914 types of confectionery and 31,578 herbs and spices. But although the choice is huge, filling a mixed basket grocery means using third party sellers, meaning high postage costs and multiple deliveries over different days. So it's perfect for anyone searching for an esoteric product but not so good for the weekly shop.

How much? Free, other than postage on some items.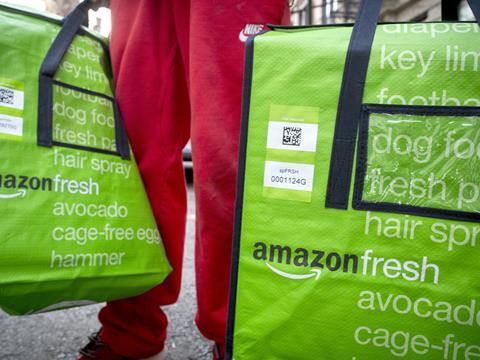 Testing the Amazon trial: how does it compare to online grocery rivals?
It takes £79 and less than a minute to sign up to Prime on your Amazon account. Instantly, I can access one-day deliveries, watch movies, stream albums, read books. And I can order groceries - including chilled and frozen items in the new Birmingham trial - that will arrive inside 60 minutes if I pay for Prime Now.
Prime Now is only done via smartphone or tablet, rather than desktop or laptop. You just download the app and tap to add a product to your basket. It's simple to build a list, due in part to the limited selection available, but the presentation of products is big and bold.
So, I add my 33 items, pay £6.99 to have them delivered inside an hour (inside two is free) and hit checkout. As The Grocer is based in Gatwick, and the trial is currently restricted to Birmingham, I arrange for delivery to a Grocer 33 mystery shopper in Birmingham. I'm asked if it's OK to leave the shopping unattended (unless it has alcohol in it, or costs over £500) and for a number to call during the delivery.
Then I'm at the payment stage. The first thing I notice is an option to add a tip (set to a default £2) for the delivery driver. As a first-time shopper, I get a promo code, which knocks £10 off. I hit Buy Now and a map pops up showing me where the order is, and where I am. It's 9:02am.
About 20 minutes later the app tells me "Kam has your order and is headed your way". After a short while, Kam, represented by a purple blob, starts inching his way down from the Amazon fulfilment centre north of Birmingham towards the city centre. You can click a button to contact Kam, who will call you straight back. At 9:48am (46 minutes after I hit 'Buy') he arrives, friendly and smart.
He says like all drivers he operates on a contractor basis (a pool of drivers wait outside the depot until called into action). He's carrying 33 items in (free) brown paper bags. Everything was present and correct. The ice was hard, the dairy products cool. The glass vinegar bottle was wrapped in bubble wrap.
Our mystery shopper said: "We use Asda for our online delivery service. Last time we had a number of substitutions. We do most weeks. So Amazon ranked better there. And Asda delivery men can also be a bit awkward sometimes - refusing to leave their van and making us come down on to the street to collect it and lug it up to the office. Amazon's delivery man was much more helpful."