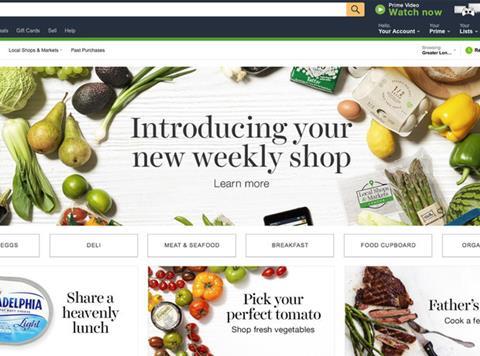 It's easy to be drawn to hyperbole when it comes to Amazon. Just because the online giant has decided to play in grocery doesn't mean it'll do so successfully. Indeed, some experts predict no more than a 3% market share for Amazon in UK grocery over the next five years.
But there's no denying the arrival of the almost-mythical Amazon Fresh in the UK this morning marks a watershed moment for the British online grocery landscape.
See also: Amazon Fresh launches in 69 London postcodes with 130,000 products
What's certainly striking at this early stage is the scale of the launch - 130,000 lines, ranging from Morrisons' own to the sort of Borough Market-sourced local produce that will have the Notting Hill set rushing to a 30-day free trial.
Compared with the US version's prohibitive-sounding $299 (£208) a year membership fee, £6.99 a month on top of the £79 Prime membership seems pretty reasonable for a service that undercuts the big four on our most recent Grocer 33 shop. Across a full year of as many deliveries as your heart desires, that's £162.88.
It's a little bit premium, however, in respect to the UK market – Tesco offers unlimited yearly midweek deliveries for £30 per year, so perhaps the sub-US membership cost is a reflection of the significantly more challenging and competitive market that Amazon has pitched itself into. Flexibility is important, though, and Amazon's same-day delivery on fresh grocery orders made before 1pm, something that few can match, will certainly make the big players sit up and take notice.
See also: Amazon 'unlikely to ever be a serious threat to big four', says Bernstein
Furthermore, Amazon has proved extraordinarily successful in other areas at developing customer loyalty at the same time as bringing in new customers, so while in the wider scheme of grocery retail Fresh may not make anything but a gentle drop in the ocean, the ripples have the potential to seriously disrupt the online grocery sector. Tesco, Ocado, Sainsbury's and Asda must be viewing their central London delivery numbers with some trepidation right now.
If the rollout of Prime Now is anything to go by, Amazon Fresh will only expand, throughout London and beyond. As is Amazon's style, there hasn't been an early blaze of public engagement either – while the launch is all over the national news, most of the social media response is national and tech news journalists announcing the launch of the service. Notably, for such a big launch, Amazon UK's homepage doesn't even have a mention of Fresh.
See also: Is Morrisons boxing clever or is Amazon deal suicide?
If a new start-up was launching this service and not buying up social media space, doling out leaflets, offering crazy introductory offers and generally shouting from the rooftops about assembling 130,000 products at a very competitive price point, you'd feel comfortable coming out and saying they were doomed. But this is Amazon. They'll just keep plugging away, altering here, expanding there, and improving all the time. The worrying thing for the other players in the UK's nascent online grocery scene shouldn't be that Amazon Fresh is here now; they should be worrying about what Amazon's power, reach and logistics can make the service become.