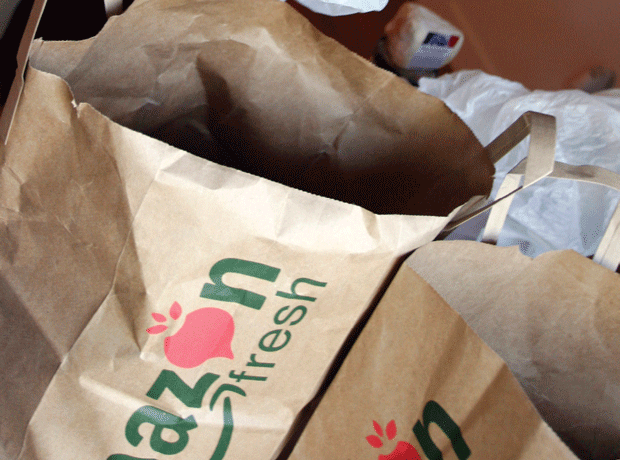 When it comes to grocery right now, all the noise is about Amazon.
Its latest move appears to be the launch of drive-thru grocery in the charmingly named US town of Sunnyvale, where, according to the Silicon Valley Business Journal, plans have been submitted for a "new 11,600-square-foot building and grocery pickup area".
In my head, the concept conjures up a McDonald's-style drive-thru. Cars could pull in, as and when they please, and order from a limited range of grocery staples at a crackly microphone/speaker combo, then drive up to another window and pay, then to another where they are handed their bread and milk, before zooming off.
Disappointingly, it sounds like customers will have to pre-order their groceries online, then pick them up at a pre-arranged time. In other words, pretty much what every major multiple already offers in the UK, either bolted on to stores or from banks of refrigerated lockers at remote locations like Underground stations. So if Amazon is just copying the supermarkets, albeit with a sprinkle of late mover advantage, what's the big deal?
Well, it's the latest sign that Amazon is getting hungrier for grocery, coming off the back of 10 days of intense speculation about its plans for the UK market. And Tesco, Asda, Sainsbury's, Morrisons and more must already be feeling fatigued that just as sales at the discounters are starting to slow, another perky entrant is ready to inject more fresh thinking and steal more of their customers.
Worse, Amazon is not a nervy newcomer. CEO Jeff Bezos is so confident in Amazon's longevity that he puts customers firmly ahead of profitability when most businesses can't afford that luxury. Amazon can, which makes it doubly dangerous. And investors love it. Last Thursday, Amazon reported booming quarterly earnings and its shares rocketed 20.1%. Bezos ended the day $4bn richer.
As for the bigger picture, Amazon's stock is up more than 70% this year. According to CNN, it trades at an "insane valuation of nearly 200 times 2016 earnings estimates". Meanwhile, CNN also says Walmart's shares have fallen 15% and trade for "just 14 times next year's profit forecasts". As a result, on Friday Amazon's market capitalisation hit $250bn, throwing shade on Walmart, which is worth just over $230bn. Walmart sales may be four times the size of Amazon, but the stock market now considers Amazon to be the most valuable retailer in the world.
And it has its sights firmly trained on grocery. Its plans for the UK have long been speculated over but they were given a potent shot in the arm 10 days ago after a report in the Times claimed the online behemoth "could" begin operating Amazon Fresh, a full grocery offer delivered to your door in bright green vans, in London in September. The Times also suggested Amazon would launch a simultaneous trial in Leeds, probably a cheeky swipe at Walmart-owned Leeds-based Asda. And on Friday, The Grocer broke the news that the likely destination for Amazon's London trial would be in Hackney.
Still, concrete details remain tantalisingly elusive. Suppliers have obviously been tapped up by Amazon but the vast majority refuse point blank to break the Amazon omerta. And at the time of the Times report, that mooted September launch was six weeks away. It's now a little more than four. Could Amazon really have anonymously arranged everything from a DC dedicated to fresh food, a fleet of vans and a ready stream of suppliers and be ready to go in a matter of weeks?
Probably. It's likely Amazon has been preparing for years and it's repeatedly emphasised its love of surprises. So let's say it does plan to launch on 1 September. If it's only covering Hackney (which is 19 sq km), how many vans or scooters does it really need anyway? Suppliers are clearly on board and on message. It already has a steady stream of devoted customers. And perhaps Prime Day, which took place on 15 July, was part of a push to persuade more Brits to spend £79 a year on Prime membership, a pre-requisite of using Amazon Fresh in the US, so more of us are in a position to give it a whirl. Maybe now all it needs to do is push the button?
Or maybe it doesn't matter if it launches in September 2015 or September 2016. Maybe the only salient fact is that it will be launching at some point. And that UK supermarkets shouldn't underestimate the challenge that awaits them, whenever it arrives. I can't imagine for a second that any of them will. But then Walmart probably thought it was ready, too.