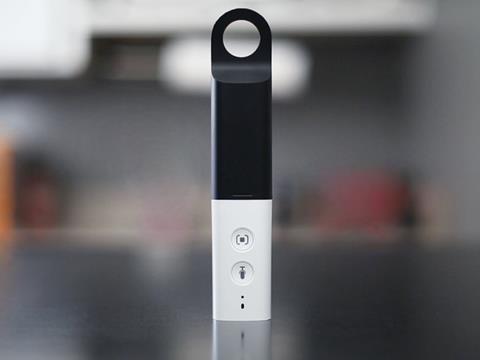 Amazon Fresh customers will be able to order groceries by scanning their barcodes or simply saying their names as the online giant brings its Dash technology to the UK.

The retailer is giving out Dash devices - which have barcode scanning and voice recognition technology - for free to its grocery customers for the next month only.

The wi-fi enabled devices link up to the Amazon Fresh website so customers' choices are ready in their baskets when they next log in.

The technology, designed to be placed in the kitchen, has been available in the US for a price of $49.99 for the past two years.

Amazon said Dash would make it "quick and easy" for customers to place a grocery order without the need to browse the products on its site.

"We're all used to trying to remember the contents of the fridge and kitchen cupboard and scribbling down reminders on pieces of paper," said Amazon Fresh vice president Ajay Kavan. "With Dash, at any given time, customers can keep track of products when they come to mind and scan to reorder groceries and household essentials as soon as they run out."

Amazon Fresh first launched in the UK at the beginning of June, across 69 postcodes in Central and East London. At the end of the month, it expanded its footprint to include 128 postcodes. The service offers 130,000 products including units from Morrisons, flagship brands such as Coca-Cola and Kellogg's and local producers such as Gail's Artisan Bakery and butchers C Lidgate.