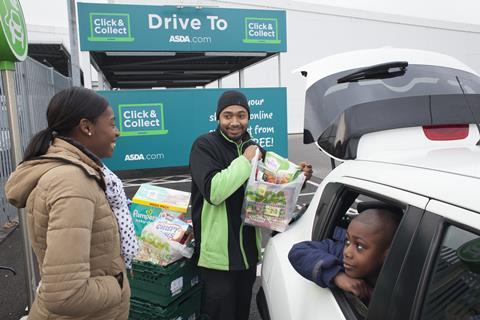 Asda is to become the first supermarket to roll out a one-hour click & collect service.
The Express Click & Collect service follows trials, launched at the end of 2019, at its Killingbeck and Middleton stores.
Asda said 25 stores would offer the service by February with hundreds in line to launch by the beginning of March.
It said the service would include Asda's full range of products online, with customers able to select products and collect them within one hour of placing an order.
It will not be offered in stores that have click & collect lockers or petrol station click & collect services.
Asda said the new innovation was part of its continuing focus on "test and learn" trials, which has been made a key plank of its strategy under CEO Roger Burnley.
"As modern lives have become busier and busier, our customers have told us that they want even more convenient ways to shop, so we have been working around the clock to introduce new trials and roll out services that meet their needs without compromising on price or quality," said Asda VP online grocery Simon Gregg.
"When we launched the Express Click & Collect trial, we expected to see people picking up forgotten items from their weekly shop, or basics such as bread, milk, nappies and last-minute dinner ingredients.
"In reality, it has been used for everything from a small weekly shop to those just wanting to pick up a few essentials. As a result of the huge demand we've seen in response to the trial we're working hard to roll it out further early this year."
He added: "Asda is well-known for its innovation and creative thinking, and we're pleased that we can continue to meet our customers' needs by pushing the boundaries of retail every day."
Meanwhile, Asda has also rolled out a same-day delivery service across 284 stores, which it said would give shoppers more convenience.
Customers can order before noon for delivery after 3.30pm on the same day.