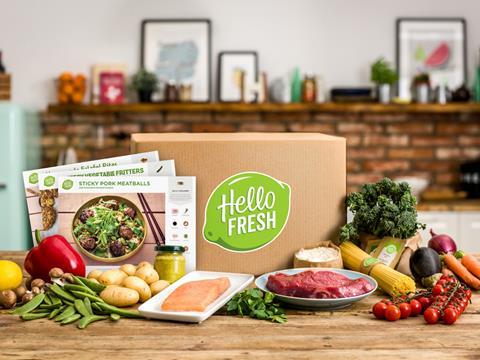 Who would have thought a meal in a cardboard box could prove such a game-changer?
Four years on from Gousto's pitch to a largely dubious Dragons' Den, it seems everyone wants a piece of the recipe box market. Sainsbury's is stocking HelloFresh kits in its branches, Waitrose has recently ended its trial of Cook Well boxes, and the Co-op is testing a partnership with Gousto. Even Aunt Bessie's owner William Jackson is looking to launch its own meal kits.
Now Amazon has got in on the act by registering a trademark for the slogan 'We do the prep. You be the chef' in the US, which will cover 'prepared food kits … ready for assembly as a meal'.
You can't fault Amazon for identifying a rapidly growing market. The two leading recipe box companies in the US – Blue Apron and HelloFresh – have turnovers of up to £760m and £252m respectively. As the concept becomes more widespread, these sums are only tipped to increase further.
Encouraging revenues aside, though, the concept is yet to prove a moneyspinner. Concerns over Blue Apron's profitability are overshadowing its bid to take the company public later this year, and HelloFresh is making an operating loss (totalling £42m in the US alone).
For Amazon, which is famously willing to fund experimentation and "fail fast", this cash burn may be of little concern. Its foray into recipe boxes instead demonstrates faith in the long-term potential of the model, which may be a boost to players facing constant questions over their viability.
But Amazon has one weapon in its armoury that sets it apart from recipe box rivals: a ready-made customer base. A quick glance at HelloFresh's accounts shows to what extent marketing has eaten into profitability. In 2016, the company spent €157m (£138m) on marketing – equating to more than a quarter of its revenue. For a relatively young business, this spend on introductory discounts, pop-up stalls and refer-a-friend offers has been vital to get momentum going.
Amazon, on the other hand, is unlikely to need anywhere near this amount of awareness-raising spend to generate the same level of revenue. As a trusted household name, anything Amazon is likely to spark a higher consideration than a subscription product by a small startup. If the recipe box is linked to Prime membership – as so many of its new concepts are – it can access a ready-made, loyal audience that has already subscribed to the Amazon ecosystem.
Granted, Amazon is still lacking food credentials (an important ingredient for the largely foodie audience that uses recipe boxes). But as AmazonFresh expands and the partnership with Whole Foods comes to fruition, that could all be about to change. And if anyone can turn the recipe box model into a large-scale, profitable business, it's Amazon.