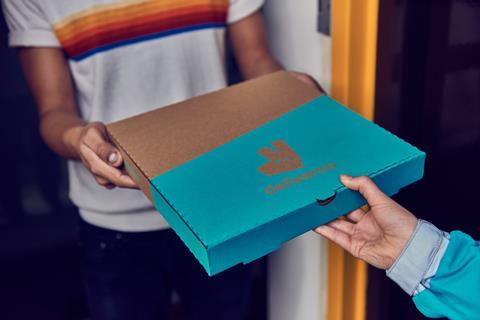 Deliveroo has launched a click & collect option called Pickup which allows consumers to pick their orders up themselves at a set time, rather than have the meal delivered.

More than 700 restaurants in 13 cities around the UK have already signed up to Pickup, including Byron, Pizza Express, Pizza Hut, TGI Fridays, Frankie & Benny's, Chiquito, Coast to Coast and Giraffe. Deliveroo expects to sign up 10,000 restaurants to Pickup within the next 12 months.

Deliveroo said the option, which launched today (11 November), means customers can get their food faster at times of high demand, while restaurants can "open up an additional revenue stream" by reaching a "new wave" of customers.

The option is also being made available to restaurants that don't offer delivery, to better schedule customer takeaways.

"Gone are the days of standing in a queue waiting to take away your food. Pickup customers can collect their meal exactly when they want," said Ajay Lakhwani, Deliveroo VP for new businesses.

"This service opens up even more choice and selection for consumers, while providing a new revenue stream for restaurants. This is another move towards Deliveroo being the definitive food company, offering the widest selection of foods for all occasions," he added.
Several food outlets offer order for collection via their apps. Starbucks app users can order coffee on its app, and the order is prepared when the customer gets close to the store. McDonald's has offered a similar service since late last year.

Deliveroo competitor Just Eat allows users to opt for collection in person, and Uber Eats allows for scheduled order pick-ups in select cities.

Pickup is available in the city centres of Aberdeen, Birmingham, Cardiff, Glasgow, Leeds, Liverpool, London, Manchester, Milton Keynes, Newcastle, Norwich, Nottingham and Edinburgh.

Deliveroo's 10,000 expected new restaurant sign-ups would take its total to 30,000.

It comes as Deliveroo also makes major new in-roads in on-demand grocer delivery. The Grocer revealed last week that a partnership with the Co-op was set roll out to 400 stores by the middle of next year. That followed the news last month that Deliveroo had ramped up the number of independent convenience stores it serves in London from around 20 to more than 200 in the space of a few months.