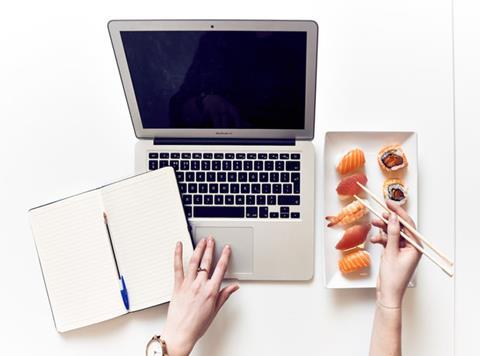 Takeaway calorie counts are to be made available by up to 500 restaurants including Burger King and KFC in a new feature on Deliveroo's website and app.

Yo Sushi, Pho, Jamie's Italian and Barburrito are also among the restaurants to have committed to show customers dish-by-dish calorie content in a new menu system to be introduced by the takeaway delivery firm from next month.

It's due to be made available initially to all UK restaurant partners before being rolled out to the 13 markets Deliveroo operates in worldwide by the end of the year.

The move follows a poll commissioned by Deliveroo which found the majority of customers wanted delivery menus to include dish calorie counts and viewed it as the most important nutritional information.
Fifty-four per cent of 2,200 adults surveyed said they wanted more information on calories while 37% said they didn't. Thirty-four per cent regarded it as the most helpful nutritional information, compared to the 23% who opted for salt and 19% for sugar content.
Deliveroo said it was also working with hundreds of restaurants and leading nutritionist Rhiannon Lambert to develop new, healthy menus exclusive to the takeaway ordering platform. The steps are to be supported by a major marketing push.

"The way to eat healthy is by having more information and more selection," said Deliveroo founder and CEO Will Shu.

"Consumers should have amazing food whenever and wherever they want it, but Deliveroo wants to also enable customers to be aware of what they're eating. We want to make it simpler, easier and quicker to find healthy meals with new information and new options on our platform."
Victoria Robertson, head of food innovation for KFC UK & Ireland, said: "We're very happy to work with Deliveroo to display clear, understandable calorie information on the app.

"We have a long-running nutrition strategy which is focused on making it easier for our customers to make lighter choices - and earlier this year, we announced a commitment to reduce calories per serving. We're really glad that our partners are taking a similar leadership position on this, and hope this new tool from Deliveroo will make a real difference."

Deliveroo has called for government proposals for restaurant calorie labelling to including an exemption for small businesses and an implementation period. "The changes Deliveroo is announcing show that the industry is prepared to make progressive changes in this area voluntarily," said a spokesman.