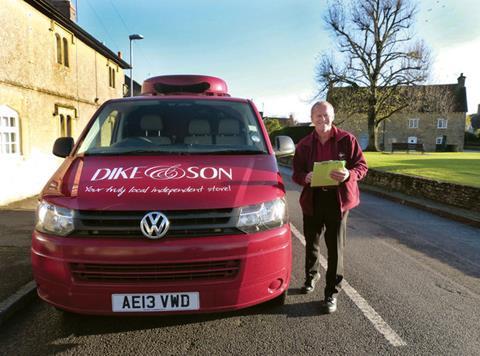 Dorset independent supermarket Dike & Son has launched an online grocery shop, claiming to become the first independent to offer full internet grocery service with local delivery.
The West Country retailer, which was founded in 1851 and is now the biggest regional independent, will offer delivery seven days a week throughout the local area with a fleet of refrigerated vans.
Dike & Son stock local produce from 130 area producers, and have 95 employees.
"We have always offered local delivery, which is a lifeline for many elderly people in this rural area. They can telephone their orders through and we will pop it round to them," said Andy Dike, Dike & Son managing director.
"My father William, who ran the business for over 40 years, used to hate watching Tesco delivery vans driving past the shop and swore he would one day be able to compete with online shopping.
"Sadly he passed away before his dream was realised, but myself and my mother Deirdre, who is Company Secretary, are very proud that we have the first independent shop in the country to offer a complete online shopping service to our customers."
Dike & Son's website was a major undertaking, with the company and digital agency Strawberry Soup working together on descriptions and photography for 15,000 products as well as integrating the shop's systems into one web system.
The independent retailer is also a member of the Nisa buying group, which it hopes will give it the power to compete with the major grocery retailers' online operations.