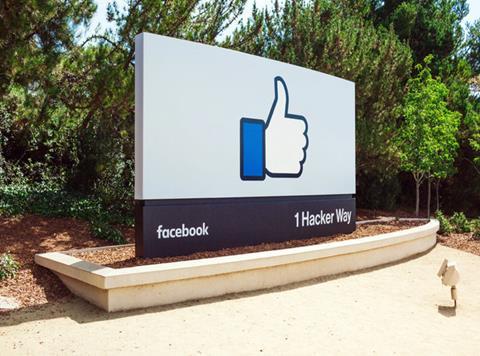 No longer content with peddling cat pictures and smug status updates, Facebook now wants to influence your eating habits. The social media site has begun trialling an Order Food icon among selected US users. So if you're not left too nauseous by the contrived pictures of couples in 'spontaneous' displays of affection, you can now order a hamburger and chips without leaving the haven of social networking.
The idea is to make the ordering process as easy as possible. All of the steps – from browsing the menu to selecting your order and finally paying – take place on Facebook. And by offering access to restaurants listed on US partners Delivery.com and Slice.com, Facebook can ensure its users spend more time on the site.
So far, so irrelevant. But the trial could have some crucial implications for grocery if rolled out more widely. The foray into takeaway food shows Facebook has ambitions to go beyond a social site to become a virtual ecosystem for its 1.9 billion users. Similar to Google Assistant and Amazon Alexa, it could eventually become a gateway for all customer transactions. (And individual companies are already offering customers the option to order and pay via Facebook, as payment expert Ingenico Payments demonstrated at the Internet Retailing Expo in March.)
If takeaways are the first step into this arena, grocery is the next logical progression. Digital marketing agency iProspect can imagine a future where you both invite your friends to dinner and order the required food via Facebook. "Whilst it's still early days, it's not outside the realms of possibility that Facebook may look to partner with someone to branch out into more everyday groceries on top of fast food," says Libby Darley, experience planning director at iProspect.
There's no reason why supermarkets couldn't be listed on the site similarly to takeaways – with ratings, delivery options and proximity to your household. As supermarkets look to tap the express delivery market, you could envisage a future in which customers find the quickest/cheapest available option for tonight's dinner ingredients and place an order entirely on Facebook.
As iProspect says, it is still very early days. Order Food is not yet even available in the UK. But the rise of Facebook, Amazon and Google in the shopping arena is undeniable. And online grocery could soon fall further under the control of these ecosystems, rather than the supermarkets.