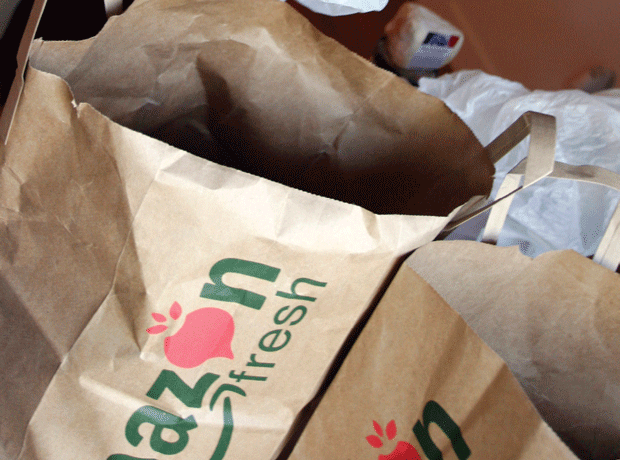 Speculation has been rife since media reports emerged last week suggesting that Amazon's grocery delivery service - Amazon Fresh - could launch in Britain as early as September.
The service, which is already up and running in the US and imminent in Germany, is essentially a speedier version of Ocado, enabling customers to order a basket of grocery items – including fresh produce, meat and dairy – and have it delivered same-day or early the next morning.
So far, the details of exactly how the service would work in the UK, who is involved and where it will launch are murky, to say the least. It's believed the online retailer is currently in talks with suppliers as it plans for its UK arrival, though none of the suppliers we have spoken to would admit to having been approached. In fact, many major fresh suppliers – the kinds of companies one would have expected to be on board – have big questions about the imminent arrival of Amazon Fresh in the UK.
One big question mark is over how exactly Amazon, which is essentially a logistics operation, will operate its own fresh food supply chain. As one source pointed out, Amazon – unlike the multiples – has no existing data to accurately predict sales volumes, so how on earth will it know how much it will sell, and how much to buy? And will it store all of this fresh food itself or will it expect suppliers to keep sufficient stock to meet demand as and when it is needed?
Questions have also been raised about price and Amazon's intention in terms of where it will position itself in the grocery market. Will Amazon add value to the supply chain by selling dairy products and fresh produce at a premium? Or will it compete with the multiples on price – potentially triggering a new round of retail price wars and putting even more pressure on suppliers? It's a prospect that's making some fresh suppliers decidedly nervous.
Amazon has already proved itself to be a major force of innovation in non-food in this country; its arrival on the UK fresh food scene could give the market some vital fresh momentum – but it could just as easily turn into a major new headache for suppliers already squeezed hard by the supermarket price war.
Amazon – which has a history of playing its cards close to its chest – remains tight-lipped on all of these points and will only repeat its media mantra of "we don't comment on rumour or speculation".
For now it's a case of wait and see.