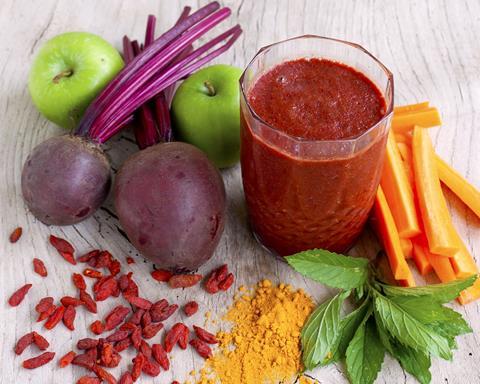 Direct-to-consumer startup The Honestly Good Smoothie Co is aiming to introduce sustainable packaging and personalised nutrition plans – after achieving runaway success in crowdfunding.
The business currently delivers frozen smoothie kits in recycled cardboard boxes lined with wool. It intends to replace the packaging with reusable, vegan-friendly, insulated bags, which customers will be encouraged to collect and return in bundles, free of charge.
The move would mark the first stage of "a phased approach to introducing a reusable packaging system, in line with our philosophy of becoming 100% zero waste from barn to blender" said Honestly Good founder Vikesh Kotecha. "We have supply in place, and are good to go as soon as we receive the funding."
At the time of writing, the brand had raised almost £226k on Crowdcube, with seven days left of its campaign – having launched it a month ago with the hope of securing £100k.
Should Honestly Good meet a target of 25% returns in 12 months for its insulated bags, it would then aim to replace its kits' recyclable pouches with a reusable alternative, Kotecha told The Grocer. "This is still very much a work in progress, though we've been experimenting a little with bamboo and silicone-based alternatives."
The brand also wants to spend some of its new funding on a personalised nutrition offer for subscribers. Since its launch in September 2018, it has sold four types of box – green, fruity, veggie or variety – each containing a week's worth of frozen smoothies made from seasonal ingredients.
It now wanted to first to introduce "an automated feedback loop" said Kotecha. An on-pack QR code will allow the customer to rate the smoothie, and then Honestly Good's algorithm will use the feedback to personalise the person's next box. "The idea being the longer you subscribe, the better we tailor for your tastes."
Phase two of the plan would see Honestly Good having access to a library of nutritional information relating to ingredients and recipes, Kotecha added. "So, you'll be able to speak to our chatbot and answer a series of questions about your lifestyle and nutrition goals, and be recommended a custom smoothie plan that assists you in achieving your health goals."
Finally, Honestly Good – which had a pre-money valuation on Crowdcube of £1.25m – is working on ways to reduce food waste by creating products from the likes of banana peel and apple cores.
"At the moment, all of this waste goes to a local allotment for composting, but as our volumes grow, we're aiming to begin creating these by-products in order of those that generate the most waste first," Kotecha said.