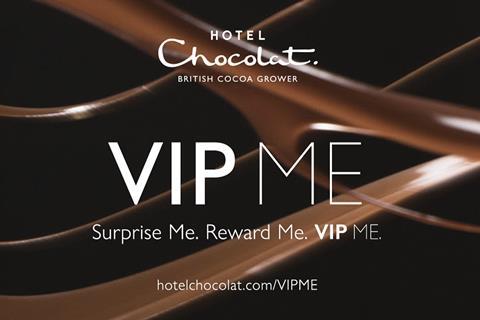 Hotel Chocolat's customer loyalty scheme has received 750,000 sign-ups since it was introduced in November 2018.
VIP Me is part of the luxury chocolatier's strategy of keeping its "best customers close in these volatile times" co-founder and CEO Angus Thirlwell told The Grocer. It offers cardholders a surprise gift on their birthday, exclusive previews, in-store tastings, free samples of its latest lines, early access to end-of-season sales and 15% off their first purchase as a member.

The programme was first trialled with 20,000 cards in 2015.

It comes alongside Hotel Chocolat's monthly subscription service, Tasting Club, which has 55,000 customers signed up.

Thirlwell said VIP Me was "like an insurance policy" because it enabled Hotel Chocolat to "do our role of keeping customers happy by sticking to what we do well in this challenging time. People respond well to that no matter their political view."

He added it was "well insulated" against any changes to importation post-Brexit, with contingency plans for every scenario, and aimed to "focus on the long-term and stick to our values of originality, authenticity and ethics".
Meanwhile, items in Hotel Chocolat's four-strong free-from range had seemingly missed the mark with customers, and had sold "OK but not fantastically well" according to Thirlwell.

While two lines made with 70% dark cocoa "have worked brilliantly in terms of taste" and had "great sales", the two 45% cocoa SKUs had not fared so well, he admitted.

"The 45% cocoa products are designed to be as creamy and mellow as milk chocolate, but they don't have a smooth enough texture yet, so we'll continue working on the recipe," he said.

"The range has shown us the opportunity of tapping into that market, and if we can make the 45% cocoa lines as smooth as milk chocolate despite using plant-based milks then the sky is the limit."

It had been about a year in the making, but he insisted it could take "five years to perfect a product".

The assortment of products are free from gluten, dairy, nuts and wheat, and were launched in February as part of the luxury chocolatier's Easter lineup. The range is made up of chocolate made with 45% cocoa, or 70% dark products.

The SKUs are free-from versions of its organic bunnies (rsp: £8/100g), as well as Puddles (rsp: £6/115g), and are made in an entirely free-from environment.