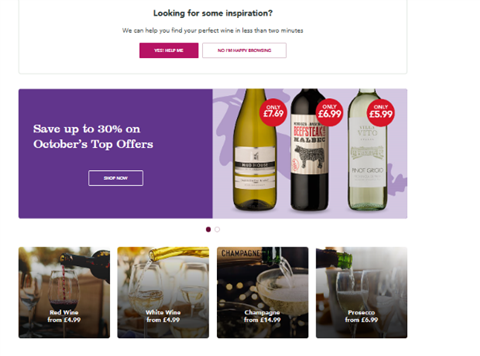 Majestic Wine is relaunching its website this month to offer customers a more interactive experience and encourage feedback.

The new-look site will give shoppers the chance to leave 'buy it again' ratings on the wines they purchase, which will be used to decide which bottles remain in the Majestic range.

"Our customers have requested a slicker, faster and more interactive website," said head of .com development Natalie Thng.

"We wanted to take their feedback and make them the central focus of the new website. They will become the ultimate decision-makers with enormous influence over which wines we stock and which we don't."

Customers can also buy tickets to events at their local stores on the website, including the 1,800 in-store Tasting Club sessions, and Majestic will stream a live newsfeed from each branch. Stores will have autonomy over what events they hold and how they communicate with customers online.

The move comes after the launch of Majestic's Franchise-Lite scheme last month to reward store managers for five-star customer service and provide them with greater influence over the day-to-day running of the store. Managers can now decide on opening times, discounts, product range and selection of their staff.

"The new website needed to reflect the great service our store managers are giving in our stores," said customer director Josh Lincoln.

"Launching the new site is another important step in our transformation. Our stores will now have a direct line of communication with their customers. We'll be able to keep them posted about exclusive local events, and hear their feedback on our wines."

At peak trading times, 1,200 SKUs will be available online for next-day or standard delivery.

Majestic Wine has 210 UK branches and two stores in France, with more than 1,000 specialist store team members.